Anya Leveillé: Interview Alexandre Babel Les Amplitudes La Chaux-de Fonds 21.-25.10.20
The 9th edition Les Amplitudes, conceived by percussionist, curator and composer Alexandre Babel will be presented in La Chaux-de-Fonds from October 21 to October 25.
Geneva born Alexandre Babel, currently lives in Berlin, from where he travels the world as a soloist and with numerous ensembles, exploring contemporary, improvised and experimental music as performer, composer and curator.
Artistic director of Eklekto, percussionist-drummer with the KNM Berlin ensemble as well as the experimental trio Sudden Infant, performer with Mio Chareteau in the Radial collective, composer for various instrumental ensembles (including a snare drum choir and a cello-piano duo) or Delia Hess' animated films, Alexandre Babel extends his sound research through multiple artistic practices which will be reflected in a series of events mixing concerts, performances, conferences, projections and sound walks at Les Amplitudes.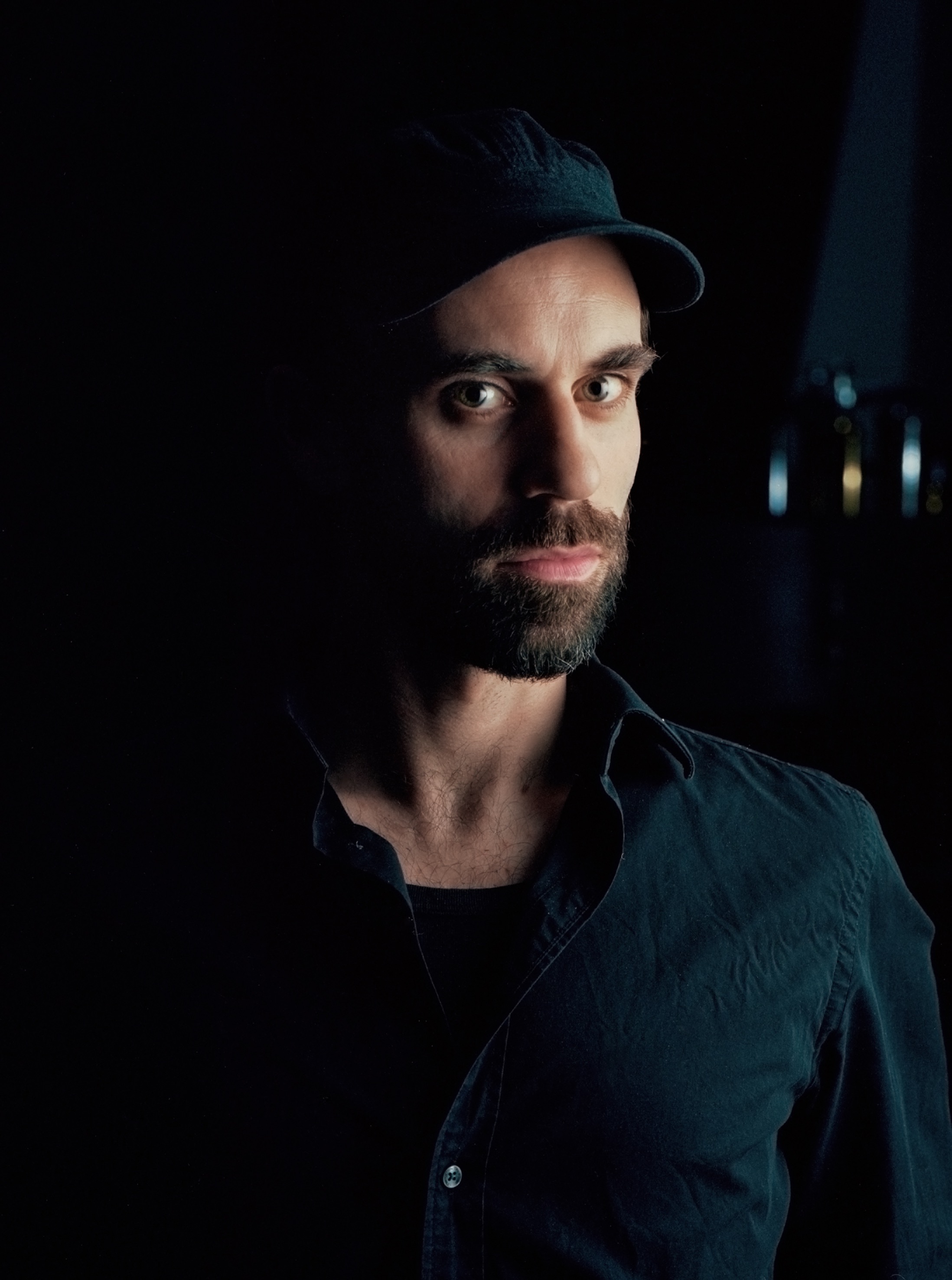 During my phone call (or rather "Zoom" call) with Alexandre Babel in his Berlin rehearsal room, we discussed the atypical Les Amplitudes festival. Its monographic dimension makes the event unique within the galaxy of contemporary music festivals, allowing the public to discover the guest artist's creative workshop, whose programming reveals La Chaux-de-Fonds' urban spaces as well as architectural heritage.
How did you approach Les Amplitudes' programming?
Les Amplitudes allows me to combine my three main activities – instrumentalist, composer and programmer – within a single event that fits into a precise framework, namely La Chaux-de-Fonds. The town becomes stage for a gigantic composition that begins on the first day of the festival and ends with the closing concert. This "composition" is made up of musical, social and urban parameters, which I perceive as one single entity formed by a constellation of concerts, events and encounters.

Alexandre Babel, the way down pour violoncelle et piano, Duo Orion 2020
You refer to the city being transformed into a huge composition. Was it to compose this urban score that you chose Alvin Lucier's "Memory Space" for the opening of the Festival, given that the piece plays with the sound spaces of a particular place?
Alvin Lucier's piece is programmed as part of the event entitled "I listen to the city", developed by the artistic director of the KNM Berlin Ensemble, Thomas Bruns. This project, which creates a kind of live urban postcard, invites participants to be guided, blindfolded, through the streets of the city and discover it not through looking, but through hearing. In "Memory Space", Lucier provides the interpreters with a text as score indicating the interpretation procedure. The musicians go to a place whose soundscape they will have to memorise by various means (recording, note-taking, drawings), but for the concert, they are asked to reproduce the sound imprint of the place from memory and with their instrument. In La Chaux-de-Fonds, these wanderings will disclose several listening layers, with participants walking around listening to the sounds of the streets and musicians musically reproducing what they have heard in the past.
the city is transformed into a gigantic composition
What do you consider to be La Chaux-de-Fonds' specific sound characteristics?
After having participated in the production of the "I listen to the city" project in many cities, La Chaux-de-Fonds seemed extremely quiet to me. Sometimes, it is even difficult to find a noisy place, but when you walk through the streets, your hearing opens up and you start to perceive sounds that are more sustained, more distant. This project is very interesting because it allows to really express something regarding the city.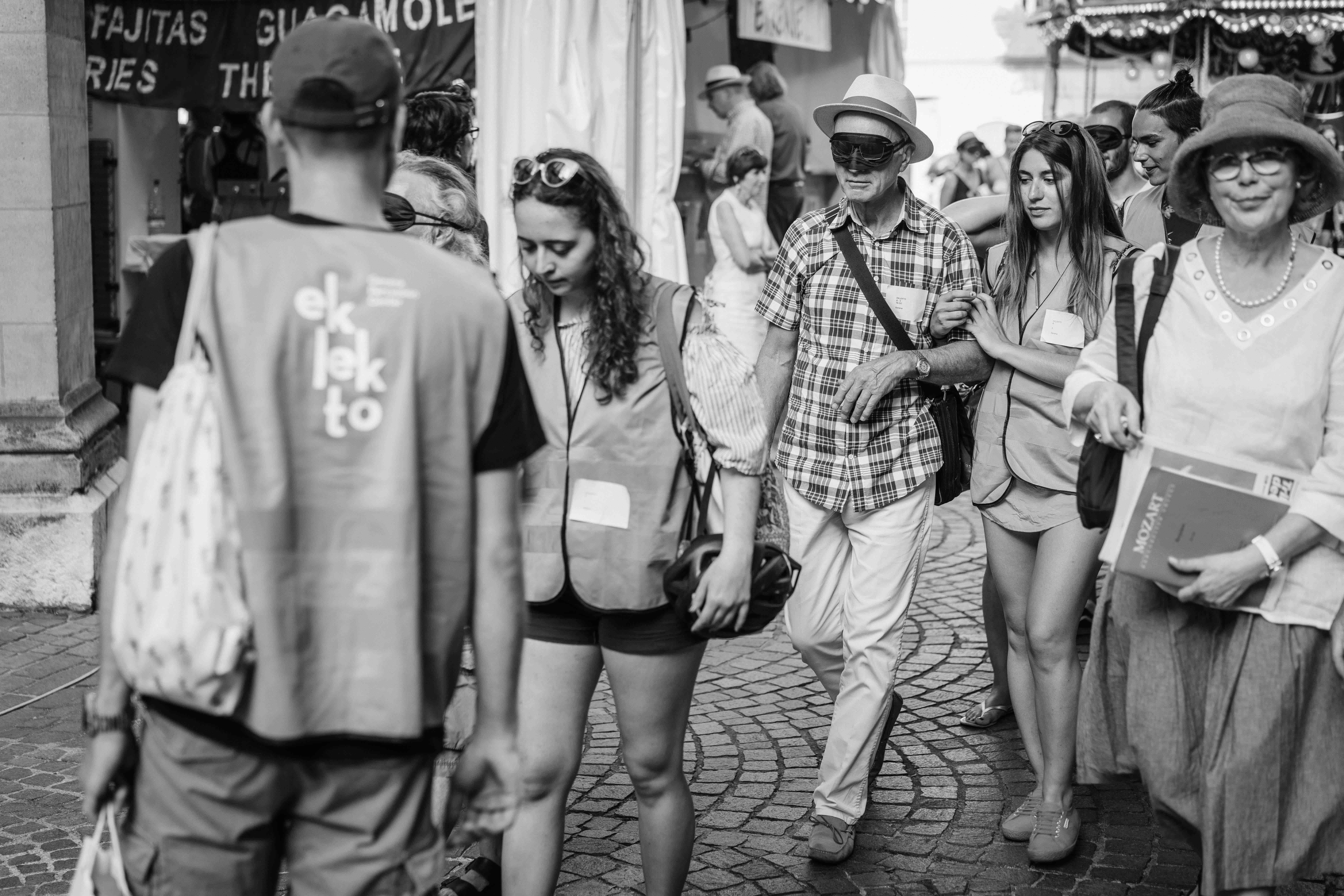 J'écoute la ville / Nicolas Masson
Besides from the sound walks, has La Chaux-de-Fonds inspired you for the other events programmed at Les Amplitudes?
Of course, because it's a place that inspires a lot of images, starting with its urban plan, which is really very special. The "Pod", this huge central avenue, and the town's division into squares made me want to create one or more walking projects. Then there is all the heritage of music- and art- related buildings, which is remarkable for a city of this size. The Music Hall, the "Heure bleue" Theatre, the "Usine électrique"… These exceptional places led me to a lot of questions: what was the story this hall was telling me? What could I do here? How could this or that score combined with another piece "reveal" a specific place?
La Chaux-de-Fonds seemed extremely quiet to me.
You haven't only scheduled concerts for this eighth edition of Les Amplitudes…
I am interested in sound vibration, in sound as a priority, but the question of this sound vibration can have different implicationsthat are not necessarily and always achievable in concert. At Les Amplitudes, I have, among other things, programmed a conference at Club 44 with visual artist, Latifa Echakhch, and composer and philosopher François Bonnet, director of the GRM.  With Echakhch, I just started a collaboration focusing on an exhibition where the question of sound vibration will not lead to a concert or another type of sound representation, but take on other forms through plastic and conceptual work.

Thomas Kessler, 5+5: Eklekto, 2017
This is actually where Les Amplitudes' uniqueness lies! Focusing on an artist, but by exploring different aspects of his or her practice or thought. A process that allows to build a journey during which we discover many different angles that, put together, will create and shape an image of an artistic proposal that one can make his or her own.
Interview: Anya Leveillé
Delia Hess, Ensemble KNM Berlin, Sudden Infant, Mio Chareteau, Radial, Eklekto Geneva Percussion Center
Broadcasts RTS:
2.10.20.: L'écho des pavanes, éditorial Anya Leveillé: Alexandre Babel aus Amplitudes
21. et 24.10.20, 19:03h: L'écho des pavanes: Live sur place aux amplitudes
19.10.20: Musique d'avenir, éditorial Anne Gillot: Portrait Alexandre Babel
26.10.20.: Musique d'avenir, éditorial Anne Gillot: concert finale en live
Broadcast SRF 2 Kultur:
21.10.20., 20h: dans: Musik unserer Zeit, éditorial Florian Hauser / invitée Gabrielle Weber & neo.mx3
Neo-Profiles: Les amplitudes, Eklekto Geneva Percussion Center, Alexandre Babel