Dieter Ammann and his piano concerto Gran Toccata @ Sternstunde Musik srf &neo.mx3
Dieter Ammann continues to push forward: with his piano concerto "The Piano Concerto – Gran Toccata", which premiered at the BBC Proms London and was subsequently performed worldwide, the composer, currently teaching in Lucerne and Bern, is reaching a new career height. Swiss Television SRF is broadcasting an in-depth portrait in its Sternstunde Musik format. Filmmaker Daniel von Aarburg accompanied Ammann during the three years of the piano concerto's creation: the result is a dense, subtle and humorous portrait of a process that wasn't always easy, with insights into rehearsals, concerts as well as private situations. Ammann's youth and his career are also explored.
In his conversation with Gabrielle Weber he talks about the making of both film and concert.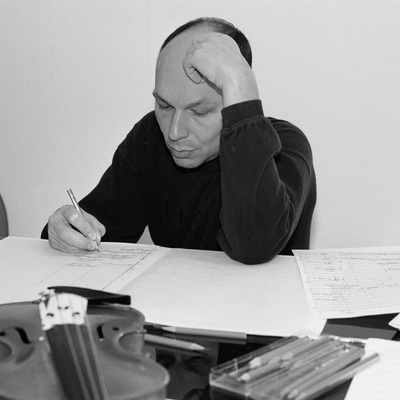 It took you three years to compose the Gran Toccata; would you describe composing a new work as a journey and was the film project also one?
It was an eventful journey: I was already involved in an independent film project initiated by director Arthur Spirk, a great music connoisseur and lover. Then SRF decided to produce a film portrait and everyone agreed to re-start the filming process with Daniel von Aarburg taking over the direction. We clicked already at our first meeting and an unbelievably beautiful cooperation developed from it.
How did the story come about?
I placed myself in the hands of the team with great confidence. The director always anticipated what he wished to film. An enormous amount of good material was produced. According to the motto "kill your darlings", a lot of cutting and editing turned out to be necessary. For example, my teaching activities at the Lucerne University as well as some private scenes are missing, which is a pity as I am deeply rooted in my family and immediate surroundings.
You live and work mostly at night… how was that compatible with the needs of the film crew go?
It wasn't just a job for them, they got completely involved. That's what made it possible to capture personal and private moments. They also naturally took my rhythm into account, set the shooting in the afternoon and sometimes at night. There was great deal of idealism involved.
..and with the soloist, pianist Andreas Haefliger?
Our cooperation worked very well, but not always without problems. We had to figure out and fight about certain things. It was exciting to work thing out together and it created a lifetime relationship.
Your "Piano Concerto – Gran Toccata" was and still is a huge success, worldwide: It is known that you initially resisted for a long time to write a piano concerto and only accepted it on the condition that one of the US "Big Five" orchestras* was involved… Was the acceptance from Boston unexpected? Was it inspiring?
I was actually trying to avoid this huge task. I generally only accept assignments if I can fully support the conditions. For example, in an earlier request for an opera, I set the condition of an eight years production. This could not be guaranteed and so that was it for me.
Due to the very early request, I actually got a few years' notice for the piano concerto before I started to compose, so I didn't freeze…
What was the musical spark for the piano concerto?
At the beginning I listened to an enormous amount of piano literature for about six months and created an extensive collection of examples of textures. I was interested in what complexity is possible on the piano – not in the sense of New Complexity, for example, but intrinsically, developed from the instrument. This collection with all notations and verbal sketches was stolen from me during a train ride and all of a sudden I had nothing left. That was a real shock.
You once said: "Freedom is at the heart of composing contemporary music": Particularly in the case of commissions for large orchestras, there are framework conditions, sometimes obstacles, which can be restrictive. They come from music that is not primarily and originally written to contain improvised material, where freedom is supposedly greater.
Writing for 70 musicians is not a restriction for me, but restrictions also exist when I work with an algorithm program on the computer or when I write for piano trio. It is precisely the friction with the restriction, the sounding out of limits, that fires the imagination.

Dieter Ammann, Après le silence. Für Klaviertrio, Mondrian Ensemble, 2004/05
Restriction is fuel for fantasy.
…when working with orchestras there is a strict working rhythm, with usually little time for rehearsals and little freedom.
I do not only have high demands on myself, but also on the interpreters of my music. Fortunately, it is mainly artistically outstanding soloists and ensembles who deal with my works, so when a top orchestra has four rehearsals, the world premiere really works. However, a world premiere rarely corresponds to the interpretational ideal. This requires several performances. In my opinion, the promotion of music should move away from the premieres hype and rather towards the obligation to perform a new piece several times.
There were also interpretational differences in the piano concerto. Each orchestra and every conductor come with his or her own sound. Contemporary orchestral works in particular are rarely performed twice. However, I have the qualitative claim to add something valid to the repertoire, so that a constant engagement with the music is possible through replaying, as for example in the case of "glut" for orchestra.

Dieter Ammann, glut. Für Orchester, Lucerne Festival Academy, Dirigent George Benjamin, 2019
You describe yourself as a slow composer – a new work of yours is to be expected only every few years… What's next?
2022 I will turn – whoa! – sixty. I am looking forward to a residency with the Basel Symphony Orchestra or a birthday concert of the Sinfonietta. Perhaps there will be one or two more symphonic concerts in addition. The postponed Swiss premiere of the piano concerto will also take place in 2022, at the Lucerne Festival.
Recently, I started working on a concerto for viola and orchestra, for soloist Nils Mönkemeyer, a co-commission of the SOB with the Munich Chamber Orchestra. This will be followed by a piece for one of the world's leading orchestras, followed by a cello concerto. If I get to live that long…;-)
Interview: Gabrielle Weber
SRF-Filmportrait Dieter Ammann / Gran Toccata, Sternstunde Musik 2020: Regie Daniel von Aarburg / producer SRF: Markus Wicker:
The Piano Concerto – Gran Toccata, Premiere is on tour since August 2019, soloist Andreas Haefliger, among others: BBC-Proms / London, Taipei Symphony Orchestra / Taiwan, Boston Symphony Orchestra / USA, Munich Philharmonic / Munich Gasteig, Helsinki Philharmonic / Helsinki. The Swiss premiere at Lucerne Festival has been postponed to 2022 due to the pandemic.
The CD recording of Gran Toccata with the Helsinki Philharmonic conducted by Susanna Mälkki on BIS Records label will be made available on neo.mx3 immediately after release.
Dieter Ammann's neo-profile includes short videos of the original material by Arthur Spirk.
*Big Five: New York Philharmonic, Boston Symphony Orchestra, Chicago Symphony Orchestra, Philadelphia Orchestra and Cleveland Orchestra
Dieter Ammann, Andreas Haefliger, Lucerne Festival, Sinfonieorchester Basel, Mondrian Ensemble, Nils Mönkemeyer, Basel Sinfonietta
Broadcasts: SRF1
Dieter Ammann – Gran Toccata, Sternstunde Musik, So, 23.8., 11:55h; Di, 25.8., 13:00h; Sa, 29.8., 9:40h (Dauer 1Std)
Broadcasts SRF 2 Kultur:
Musikmagazin, 22./23.8.20, Redaktion Benjamin Herzog / Beitrag Silvan Moosmüller.
Musik unserer Zeit, 29.7.2020. (Erstausstrahlung 12.2.2020), Unspielbarkeit, Redaktion Theresa Beyer
Neo-Profiles: Dieter Ammann, Lucerne Festival Academy, Sinfonieorchester Basel, Mondrian Ensemble, Basel Sinfonietta