35 years ensemble für neue music zürich
Setting significant standards since three decades: the "ensemble für neue music zürich" was founded in 1985, when contemporary music was only just beginning to emerge – today it is facing particular challenges.
A review with perspective by Thomas Meyer.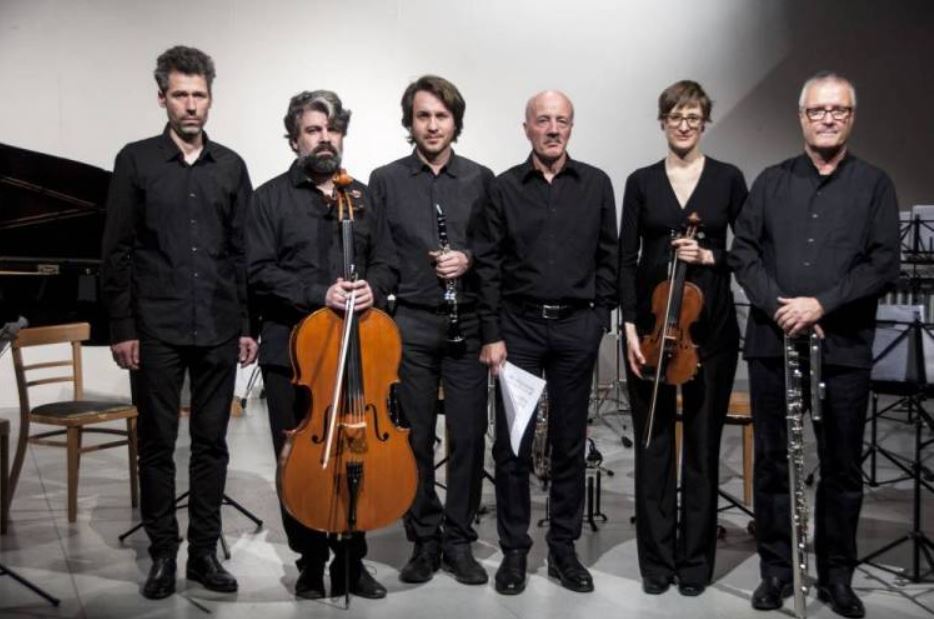 One must remember the musical situation in Zurich around 1980. The Conservatory still lived up to its name: a place of preservation, not at all focusing on creation as it is today. Premieres for instance were highly unappreciated at the Tonhalle. There were small concert series dedicated to new music, but no specialist ensemble for it. There was a lot to be done.
When the "Tage für Neue Musik" were first held in 1986, a young ensemble, simply called "ensemble für neue musik zürich" emerged. It had presented itself for the first time only one year earlier and gathered a handful of musicians who were looking for something new. The musicians supported young composers of their generation and their environment and who had a very broad concept of music. Everything started with a concert by the "Gruppo Musica Insieme di Cremona" during the Zurich Junifestwochen, with mezzo-soprano Cathy Berberian. "It was an eye-opener: I felt the urge to do something like that," says flutist Hanspeter Frehner, who founded the ensemble with other young students and still leads it today. Together with the pianist Viktor Müller, he is the only member of the original line up.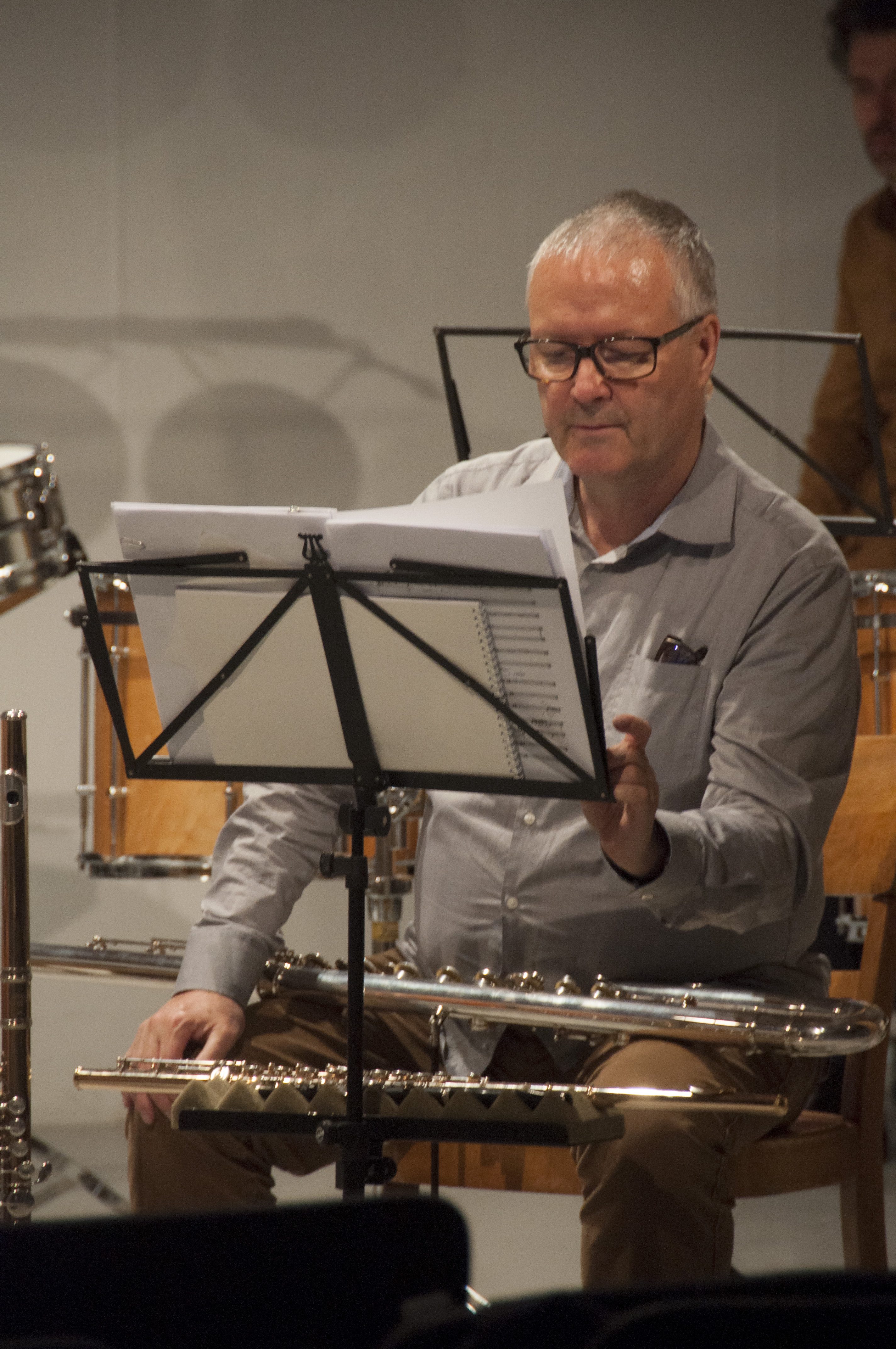 Two essential characteristics define the ensemble: open-mindedness and consistency. Their open-mindedness is reflected, for example, by the choice of presenting female composers' programmes from very early on, commissioning works to Liza Lim or Noriko Hisada. Another characteristic is asking jazz musicians to compose – which launched, for example, the career of Dieter Ammann. They also dedicated themselves to the visual arts, as in their homages to the Zurich sculptor Hans Josephsohn or in their collaboration with the experimental artist Peter Regli.

Verwandtschaft, composer: Junghae Lee, UA Winterthur, Villa Sträuli  2019, ensemble für neue musik zürich
But above all, they pushed music theater to a new level: the ensemble's instrumentation is based on Schönberg's cabaret-like "Pierrot lunaire": flute, clarinet, violin, cello and piano, complemented by percussion, similar to Peter Maxwell Davies' "Fires of London". With two short operas by Davies, the "ensemble" proved early on that it was possible to create grandiose musical theatre with a few, consistently applied means. Another experiment, together with director Herbert Wernicke, was a radical version of the "Merry Widow" – so bold that Léhar's heirs promptly banned it. Since then, chamber operas have been a permanent feature of the programme. Next November, for example, the operetta "Neues vom Weltuntergang" by Dortmund composer Johannes Marks is on schedule.
Their consistency is reflected in the long collaboration among each other, but also with the composers. Noriko Hisada, from Japan, states for example, that "ensemble für neue music is one of those groups in which I have deep trust" and Sebastian Gottschick has been the ensemble's guest conductor for a long time. These days, the "Hat Hut" record label (ezz-thetics) is releasing two new CDs with his "Notturni" as well as arrangements of Charles Ives songs. A remembrance of composer Franz Furrer-Münch, who died in 2010, is also planned for next autumn. This all shows that it's not only a matter of featuring the big names of new music, but also about working, as well as promoting, from the base upwards…

Trailer ZUHÖAN, composition duo: Christoph Coburger / Sebastian Gottschick, UA 2015, ensemble für neue musik zürich
This is how the "ensemble" has been setting standards for some three and a half decades. Some time ago, the rumour started to circulate, that the musicians were gradually reaching retirement age. Actually, financial support from the city of Zurich will expire at the end of 2021, but Frehner says there are still a few ideas and projects beyond that. Moreover, he believes that it would be perfectly fine, if the regular city support were invested in the future, i.e. a young ensemble.
One has to consider the situation in Zurich today: New Music does not have a fixed venue such as the Gare du Nord in Basel and with the Walcheturm in Kaserneareal, at least one option for the independent scene is available. The Tage für Neue Musik are on the verge of a new conception, the orchestral concerts are not exactly bursting with innovations. Although creation is flourishing at the ZHdK and the city has a fixed chamber orchestra "Collegium Novum Zurich", a new smaller ensemble would also require support and there is still a lot to be done.
Thomas Meyer
The concerts planned for May and June were cancelled due to the current Covid-19 restrictions and will be made up on the following dates:
Stöckli/Neumann/Ustwolskaja (instead of 16.5.20): 5.2.21
CD Taufe Ives/Gottschick (instead of 14.6.20): 12.12.20
Grüsse an Regli (instead of 28.6.20): 29.6.21
ensemble für neue musik zürich, Hat Hut, Sebastian Gottschick, Liza Lim, Franz Furrer-Münch, Dieter Ammann, Hans Josephsohn, Johannes Marks, Peter Regli
Neo-Profiles: ensemble für neue musik zürich, Dieter Ammann, Junghae Lee