Interview with Michael Wertmüller by Gabrielle Weber: The 10th Symphony @ Cologne & Pandemic Premiere @ Donaueschingen
Michael Wertmüller continues composing Beethoven's fragment of the 10th symphony and the result can be heard in the Kölner Philharmonie on October 14. Immediately afterwards, a new work will be premiered at the Donaueschinger Musiktage*: a true tour de force for the SWR Symphony Orchestra, having to face the increased hygiene requirements in a reduced size.
The Berlin-based musician masterfully mixes musical styles, genres, formats and formations. He travels internationally both as jazz drummer and composer and his pieces are always shrill, fast and highly complex. Thus he constantly shakes up new music clichés and cannot be allocated to any fix place.
Wertmüller and Beethoven or Wertmüller and the pandemic conditions: is that possible?
It certainly is, reveals Wertmüller in an interview via zoom from Frankfurt, where he was discussing an upcoming music theatre production.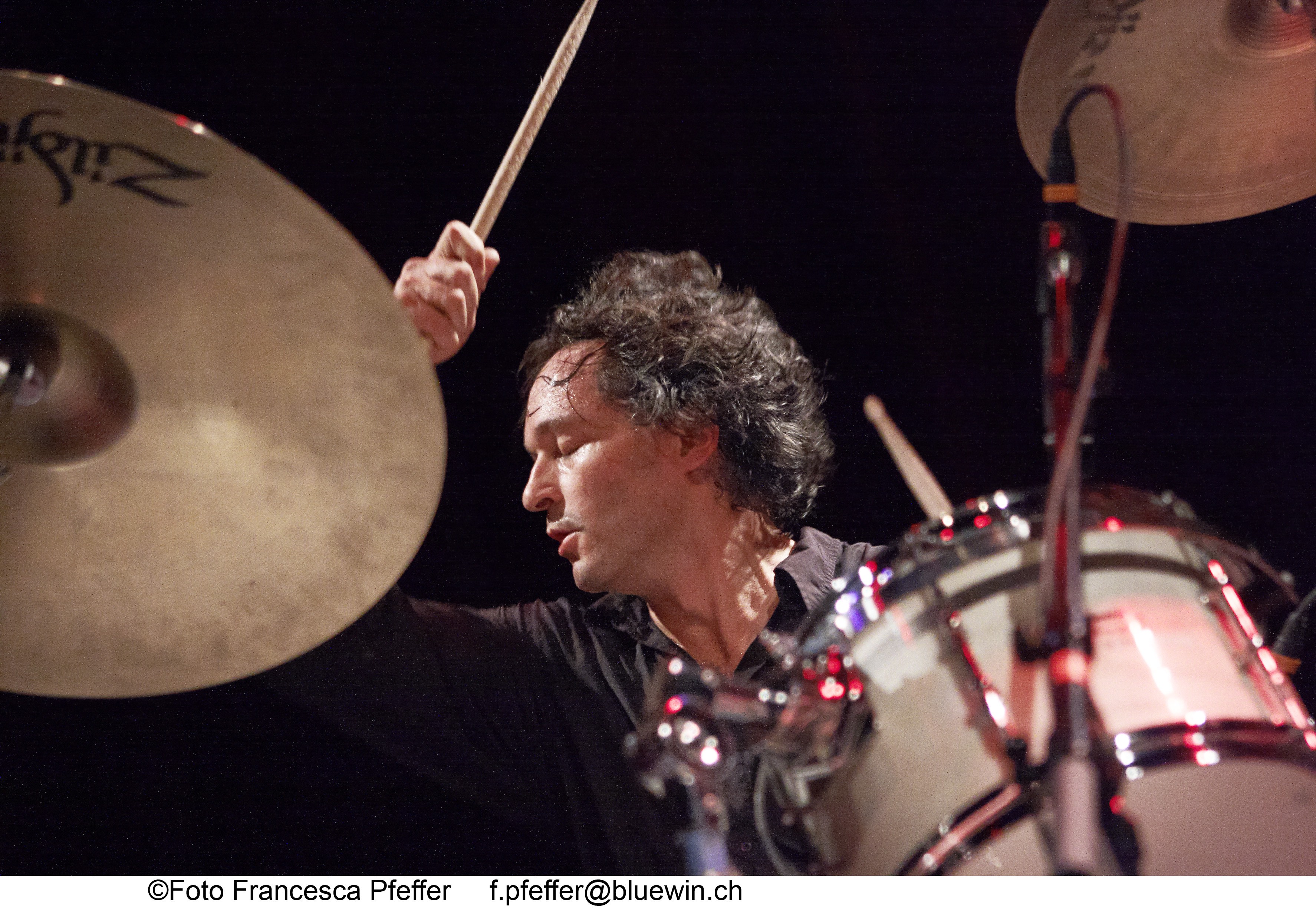 Full blast, Peter Broetzmann sax, cl Marino Pliakas e-b Michael Wertmueller dr
Gabrielle Weber
You are currently in Frankfurt, working live with people again, travelling. Has your work changed since the pandemic?  More online, less travelling?
My work as a composer hasn't changed at all – even before Corona I was alone at home for weeks and saw no one. At the moment there are fewer meetings, of course and I work more via zoom – like everyone else I suppose. Apart from the fact that live performances are on hold, little has changed.
Have you lost many live concerts?
In the last fifteen years I have experienced kind of a cross-fade: proportion and ratio have shifted from many tours and occasional composing to the opposite. That's why it wasn't so drastic for me: only one big USA tour with my trio was cancelled.
Your trio: Full Blast?
Yes, exactly, my jazz trio with Peter Brötzmann and Marino Pliakas. A big USA tour was planned, across the country from east to west. This cancellation hurts of course, especially since we had some successful tours in the States in the past. We had been invited to various festivals and were often on tour without state support, almost self-sufficient.

Michael Wertmüller, Full blast, Suzy, 2008
You are in the middle of the preparations for your 10th symphony in Cologne and the piece is part of a trilogy**. Part one had to be postponed due to the pandemic, part two was conceived differently: were there moments of uncertainty regarding the project?
Not really interestingly, as it takes place in the Philharmonie, which is huge, with its over 2100 seats and the project was always conceived for a chamber music setup. I don't know if anything else is coming… but only 200 people are admitted.
Still three weeks to go… what does your project look like?
My piece, the 10th symphony, will take place in the great hall. It's in the form of a music theatre. I wrote music to individual sections of a text by Gesine Danckwart, a younger Berlin author. Three singers, two string quartets and two ensembles will be interpreting it, for a total of some 25 musicians altogether.
There is also another, separate project, a sound installation distributed throughout the building, whichs can be experienced over four days.
You continued Beethoven's 10th?
That was more of a working title, as there are only very small fragments, no more than four-five-bar sketches. I only used a tiny theme. In this project, Beethoven is relatively irrelevant to the tones themselves. Novoflot, the opera company who's responsible for the project, asked itself and me the (big) question: what would Beethoven sound like today?
What matters most to me is that I was actually asked to do some Beethoven related work in the first place, as I would almost have been offended if I hadn't been able to do anything about the great Beethoven anniversary. I am the biggest Beethoven fan ever.
"I am the biggest Beethoven fan ever."
How did this fascination come about?
I was already a fan of his music as a child. As well as of Miles Davis' and John Coltrane's. I am actually a simple, rather romantic type of guy who easily gets enthusiastic.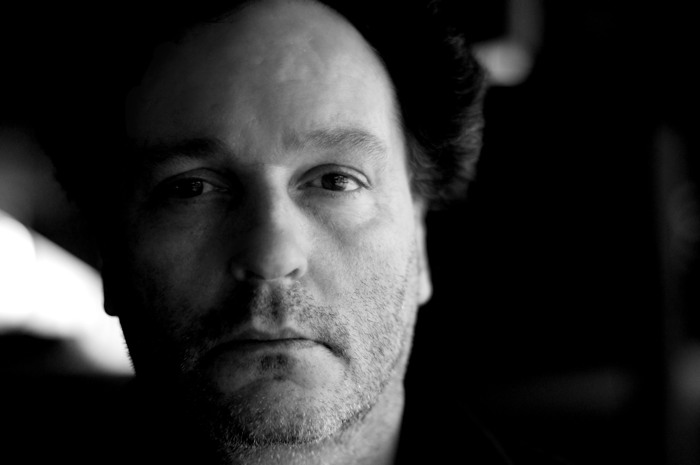 Can this enthusiasm be heard in your composition?
Beethoven is constantly present in the back of my head. The music I love accompanies me always and everywhere, even in everyday life. Like Coltrane, Miles, or Bruckner and Shostakovich. This automatically flows into my music, whether I play or compose.
Will it become more tangible in Cologne or will it remain subconscious?
It'll remain subconscious. The question of how Beethoven would compose today is answered by our line-up: Johnny La Marama, a hip Berlin jazz band, the "Ensemble of Nomades", which brings in New Music, and three singers with a classical-romantic background. These are the three worlds that are valid for me today and combining them could certainly be something that Beethoven might have wanted to do in the present days.
Word's out that musicians are completely overwhelmed when they have to interpret your pieces, as well as the audience… will that be the case this time?
The music will be relatively digestible, even pleasing. Very harmonious and also danceable. The only thing that could hurt is its intensity. But I have made the experience that I can trust the audience a lot – I don't underestimate it.

Michael Wertmüller: Musikfabrik Köln, Antagonisme contrôlé, 2014
In Donaueschingen a new piece of yous will be presented in the Baarsporthalle immediately afterwards…
Donaueschingen is always a big challenge with its whole ongoing tradition. Even though I have been invited several times, I always think of something special for it.
..a " grandiose piece…"
The piece had to meet the new increased hygiene requirements… a chamber music miniature…
It is absolutely not a miniature. On the contrary: it has on purpose become "grandiose", megalomaniac, because of this corona affliction. It is everywhere and I have it too.
"Megalomaniac"? So in your case, the new guidelines resulting from the pandemic were inspiring, not annoying?
The instrumentation has been reduced and the normal symphony orchestra practically cut in half. I had no problems with that. I chose a soloist approach for the piece and wrote extreme virtuosity into it, which made it haunting, pathetic, shrill and very virtuosic. I have no trouble anticipating. As musicians, as artists, we must be able to anticipate, otherwise we are lost.
…anticipate…?
I take the situation seriously and have full confidence in the government, in the experts. But now it is important to carry on and to be consistent.
Every little thing I am allowed to do right now – and at the moment we can be thankful, if culture even takes place at all – I want to do right: full on. I want to cry out now, really loud and really furious – that's what I do with my work. It will be a scream, an outcry.
Interview: Gabrielle Weber

Michael Wertmüller, Zeitschrei for Piano, Bass, Percussion, Steamboat Switzerland, 2015
———————————————————–
**as part of the "Labor Beethoven 2020" project – Contemporary music festival for Beethoven's anniversary, in cooperation with the Akademie der Künste Berlin

#3 The 10th Symphony, 14.10.2020, 20h: Philharmonie Cologne: Novoflot Opernkompanie, Ludwig van Beethoven, Michael Wertmüller.
Further performances are planned for December in Berlin (dates & locations tbc)
Neues Werk Donaueschinger Musiktage, 16.10.2020, 18h / 21h*:
SWR Symphonieorchester, opening concert, Dirigent Titus Engel: Paul Hindemith, Kammermusik Nr.1 (1922), Michael Wertmüller, Neues Werk / UA; Oliver Schneller, The New City / UA, Lula Romero, displaced / UA, Klaus Lang, Neues Werk / UA, Cathy Milliken, Neues Werk / UA
*DONAUESCHINGER MUSIKTAGE canceled at short notice (12.10.20):
On Friday, October 16 at 8 pm, SWR2 will broadcast a rehearsal recording of the opening concert.

Michael Wertmüller, SWR Symphonieorchester, Titus Engel,  Novoflot Opernkompanie Berlin, Steamboat Switzerland, Peter Brötzmann, Donaueschinger Musiktage, Kölner Philharmonie, Gesine Danckwart, Johnny La Marama, Ensemble of Nomades
Neo-Profiles: Michael Wertmüller, Steamboat Switzerland, Donaueschinger Musiktage