Martin Lorenz started out as drummer and percussionist but his curiosity led him first to experiment with LPs and eventually with synthesizers, turning more and more to composion.
With the synthesiser trio Lange/Berweck/Lorenz, he will be playing the KONTAKTE Festival in Berlin as well as the Kunstraum Walcheturm in Zurich in September.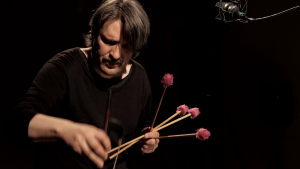 Friederike Kenneweg
Tall and slender, Martin Lorenz looks as if he always needs to bend down a little. When describing his search for special sounds, how the sound of gravel on a driveway or the one of an elevator door closing can be produced with synthesizers, his face lightens up.
Such enthusiasm for sound research is also necessary when working as drummer or percussionist in contemporary music.
Searching for the right sound material
Often percussionists don't only play the usual percussion instruments, but need to find the necessary objects for the right sound – stones, pieces of wood, cups, etc. – a particular piece of music needs. They thereby take on a great deal of responsibility for how a piece sounds in the end, because composers do not always specify what they have in mind or what pitch a certain drum or even a stone should actually have.
The constant search for new sounds also led Martin Lorenz to explore the possibilities of LPs. During his own turntable performances, he cuts into the records with a knife, so that very specific rhythms and loops emerge when playing it back.
Cuts into vinyl
What is recorded on the cut record is of course decisive for how the loops sound in the end, so it was obvious for Lorenz to have records with his own sounds – and as a consequence he got involved with synthesizers and also founded his own label DUMPF Edition in Zurich, releases his own as well as other people's experimental music. Actually, he still prefers LPs, but as a small label, relying on vinyl only hasn't really been much fun lately, says Lorenz.
"There waiting times are too long and there are often delivery problems again, it's not reliable and finally releasing a record can take ages."
Lorenz doesn't dwell on problems for long, however and rather looks for ways to dissolve frustrations and make them fruitful – which can be seen in his path towards composing. Time and again, he felt a certain disappointment when the ensemble in which he was employed as a percussionist commissioned works from composers and the results they presented did not meet his expectations.
"At some point I said to myself, if I have such precise ideas about a piece, maybe I should just write them and compose my own pieces."
Feedback and spatial sound
A series of works by Martin Lorenz for instruments and live electronics called "Oscillations", focusses on the feedback arising when instruments are recorded live in space and played back, resulting in complex structures of sound layering.
In 2021, the piece Swift Oscillations was written for the newly founded Eastern Swiss ensemble Orbiter, with Martin Lorenz himself on vibraphone.

Swift Oscillations by Martin Lorenz – 2021, performed by Ensemble Orbiter at Kultbau St. Gallen.
In addition to his work as percussionist and composer, Martin Lorenz has become increasingly involved in electronic sound production, live electronics and analogue as well as digital synthesizers. With his 2014 "Reviving Parmegiani" project, he finally entered the complex world of historical performance practice of electronic musical works together with pianists Sebastian Berweck and Colette Broeckaert. Performing electronic music again at a later date with other performers is often not that easy as sometimes the synthesizers used are no longer manufactured, there are no updates available, or the computer programme that was used doesn't run on new devices.
Historical Performance Practice: Stries by Bernard Parmegiani
As the performers are often unaware of the problems that might arise in the future, they make no or inadequate records of what sounds they have set and what synthesizers or electronic effects they have used. In "Reviving Parmegiani" the 1980 piece Stries by French composer Bernard Parmegiani (1927-2013) was to be made playable again. Parmegiani had written the piece for the Paris synthesiser trio TM+ and the notations of the piece as well as a recording that could serve as reference were of reasonable quality. Nevertheless, the three performers had to embark on a detailed search to find out how the respective sounds had been produced and how they could be reproduced again at present times.
"In some places we still haven't found what and how TM+ did exactly," says Martin Lorenz. "Sometimes it's just some badly wired spot of an analogue effect or synthesiser – that will remain a mystery forever."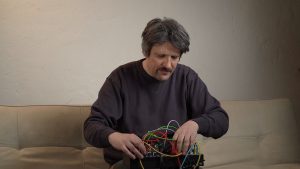 The lengthy and at the same time highly fascinating work on Stries became the starting point for the synthesiser trio Lange/Berweck/Lorenz, with whom Martin Lorenz still plays regularly. The three musicians Silke Lange, Sebastian Berweck and Martin Lorenz regularly commission compositions from contemporary composers in order to expand the repertoire for the unusual combination of three synthesizers.
It is important to them to work with the composers in the long term. "A first joint work like this is often more of a "getting to know each other" process," says Martin Lorenz. "Only when meeting again things like what can be expected of us, what we are good at, and what we might be challenged with become plain to see."
Another thing that is plain to see, is that challenges are something that Martin Lorenz is always on the lookout for.
Friederike Kenneweg
Lange/Berweck/Lorenz, Silke Lange, Sebastian Berweck, Martin Lorenz, Akademie der Künste Berlin, KONTAKTE Festival,
Mentioned Events:
23.09.2022 Concert by Lange/Berweck/Lorenz at KONTAKTE-Festival, Akademie der Künste, Berlin
28.09.2022 Lange/Berweck/Lorenz at Kunstraum Walcheturm Zürich
Mentioned Recording:
"Bernard Parmegiani: Stries. Broeckaert/ Berweck/Lorenz", ModeRecords, 2021
neo-profiles:
Martin Lorenz, Ensemble Orbiter, Kunstraum Walcheturm Zürich