Impacts of the pandemic on musicians in Switzerland and the United States
Laurent Estoppey, composer, saxophonist, sound artist and artistic director of the Ensemble Babel Lausanne, has been a musical bridge between Europe and the United States for many years.
As expert of both continents, I invited him to state his points of view on the consequences of the corona virus pandemic relating to musical creation on both sides of the Atlantic.
Read the second part of his large-scale survey: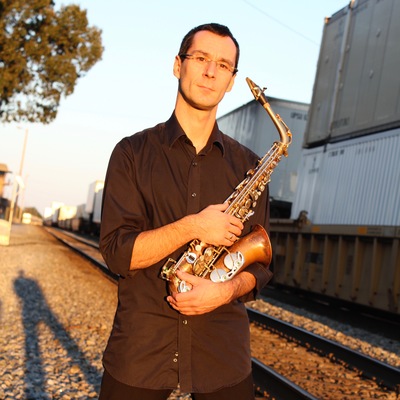 (re)inventing the aftermath ⎜2/2 
Laurent Estoppey
The most important losses and needs musicians faced during lockdown times are easily identifiable and generally shared: playing with others, playing in front of an audience, hugging family and friends.
However, this situation allowed some people to develop a great variety of long-term thoughts and projects, explore new paths, at a different pace. Approaches to the digital world and its possibilities are also very different from one person to another.
"Physical distancing opens up interesting ways of reflection and questions related to performance in a constraining framework for example, the limits of the body and the way in which sound flows out of it, inhabits the space, extends a gesture, encounters others. This kind of directions captures my attention at the moment."

Laurent Estoppey, Caroline County
New forms of projects are born and it is still very difficult to know if they will be really satisfactory, but they do respond to a desire, an urge to create, to pursue a quest. (see links below)
Many "records" will be released in the next few years…but for which public? And at what price?
For if musicians clearly need an audience, we don't know if the opposite is true? Has free music made its way into the minds of the (digital) public?
The example of a rock concert in Geneva in May, watched by 13'000 people of which everyone was kindly asked to pay a proposed amount or make a free offer… and only 13 people paid something, is obviously worrying.
The "revival" initiated by some cities by offering free shows – where the artists were payed – also leaves one wondering. The public is accustomed access easily and free, preventing it from being truly professionalized.
"I am afraid that as the economic situation is improving, this interlude only served to forge the next speeches on crisis and austerity, despite the promises of support regarding some essential professions and the promise to review priorities.
I hope, however, that the fact of having experienced a rare moment of "deviation" in our production pace, including in the cultural industry, will remain in the memory of a few people who will look at all this differently."

Dragos Tara, Horde
The passion of musicians on both sides of the Atlantic is intact, but will we have the energy to make our activities viable and recognized as real professions?
Many artistic questions remain:
Do we have to reinvent the concert situation in terms of new and sustainable health standards?
Will the creation and performance modes of the recent months become the new standards and if so, will we settle for lesser quality and experiences?
Will the crisis reinforce our demands and our artistic needs or will it push towards a quasi-economic renunciation of musical practice as experienced in the USA?
What we realise, is also that musicians' associations such as SONART or FGMC (Fédération genevoise des musiques de création) also have a very important role to play in the reflection and management of the "aftermath".

Viva Sanchez, Brice Catherin, Numéro 2
In conclusion, two reflections by American musicians:
"I believe the music scene was very exciting but definitely dying. What I miss the most is maybe something that actually never existed."
"The pandemic saved me from a burnout. I appreciate this period and try to make the most of it, through meditation, reflection and gardening. The health crisis and the (potential) political awakening are extremely inspiring and stimulating for composing music and songs. »
It's up to us to react and to dream!
Laurent Estoppey (2/2)
Here some links to specific projects carried out during lockdown times:
Atomwrec Bob Parking Garage Bidness
Brice Catherin / Noisebringers
Jacques Demierre Decálogo Sonoro – 3° entrega
Nicolas Lira 72 seconds solos
Dragos Tara Lisières (avec entre autres Patricia Bosshard, Laurent Estoppey…)
Andrew Weathers Llano Estacado Monad Band
Association Insubordinations / Cyril Bondy, Jacques Demierre, Anouck Genthon…
ensemBle baBel Walking Venezia
Hyper-Duo (Julien Mégroz et Gilles Grimaître)
Article suggested by Julien Mégroz
Quotes in italics are from musicians who participated in the survey:
Antonio Albanese, Aaron Bachelder, Cyril Bondi, Patricia Bosshard, Laurent Bruttin, Brice Catherin, Vattel Cherry, Jacques Demierre, Susan Fancher, Edmée Fleury, Antoine Francoise, Shawn Galvin, Anouck Genthon, James Gilmore, Gary Heidt, Jonas Kocher, Antoine Läng, Nicolas Lira, Julien Mégroz, David Meier, David Menestres, Luc Müller ,Raphaël Ortis, Robert Pence, Will Redman, Noëlle Reymond, Viva Sanchez, Dragos Tara, Vinz Vonlanthen, Andrew Weathers.
Many thanks to you all!
Neo-Profiles: Laurent Estoppey, Association Amalthea, Julien Mégroz, Jonas Kocher, Dragos Tara, Ensemble Babel, Jacques Demierre