Gion Antoni Derungs (1935-2012) is not only Graubünden's most prominent composer. He is also considered one of Switzerland's outstanding musical personalities. Ten years after his death, he is receiving an extensive tribute through a biography and a Derungs Festival was held in Chur.
Portrait by Laura Decurtins.
Laura Decurtins
The wide-ranging works of Gion Antoni Derungs reflect artistic imagination, strong musical identity and an irrepressible creative urge; he himself described them as the "image of his life". In his productive engagement with the local musical traditions as well as with the international musical currents of the 20th and 21st centuries, Derungs achieved an unmistakable personal style. Today, his name stands for high-quality musical works of art that range from simple songs to complex instrumental works, speaking to amateurs and professional musicians alike.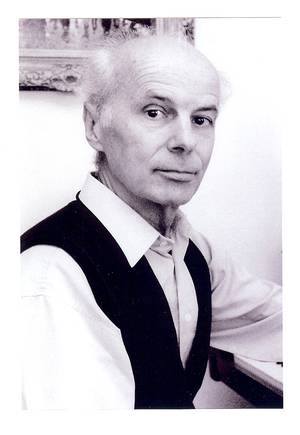 Portrait Gion Antoni Derungs zVg. Fundaziun Gion Antoni Derungs
Folk Songs as "Roots" and "Source"
Gion Antoni Derungs was born on September 6, 1935 in the small village of Vella in the Val Lumnezia. After his father's premature death, the family had to make ends meet with hardly any means, but the highly talented mother – sister of the famous musician Duri Sialm – nevertheless attached great importance to the musical education of her children. Romantic piano music, operas and the folk songs of Surselva surrounded Derungs from an early age. Furthermore, he was sometimes allowed to accompany church services on the harmonium, so that he also became familiar with the old Catholic hymns of the Surselva. The "canzun romontscha" became both a musical identity root as well as a source for Derungs' compositions.
From piano student to musical director
In 1949 Derungs entered the grammar school of Disentis abbey and was taught piano and organ by village music teacher Giusep Huonder as well as by his uncle Duri Sialm. After graduating from high school, he was offered to study at the conservatory in Zurich, where – in addition to piano – he took composition, music theory, organ, conducting and score playing lessons; while at the same time studying school singing at the music academy. In 1960, while still in his studies, he was appointed musical director in Lichtensteig (Toggenburg) as his uncle's successor and in 1962 he was finally appointed piano and organ teacher at Chur's Bündner Lehrerseminar, as well as organist and director of the Romansh city choirs Alpina and Rezia.
Guinea pigs and "house interpreters"
In 1968, together with Pastor Gieri Cadruvi, Derungs founded the record series "Canzuns popularas" (CPLP) to promote Romansh songs. Until 1987, 13 recordings were released with a wide variety of programmes and performers. The main interpreter was the Ensemble Quartet grischun, an elite chamber choir founded by Derungs himself and with whom he was able to try out his latest, avant-garde vocal creations, such as the Missa pro defunctis op. 57, for which he won the gold medal at the international composition competition in Ibagué (Colombia).
Gion Antoni Derungs, Quintett op 25 für Flöte, Klarinette, Violine, Violoncello und Klavier, in house-production SRG/SSR
Derungs' colleagues at the teacher seminar, including his cousin, organist Esther Sialm, became the actual "house interpreters" of his instrumental chamber music. Between 1969 and 1971, Radio Rumantsch offered Derungs' so-called "musica moderna" a platform – which promptly earned him an ambiguous "modernist" reputation. The works presented included the Quintet op. 25 for flute, clarinet, violin, cello and piano, a "symbiotic" combination of linear-polyphonic moments with cluster sounds and noise explosions, as well as the Silhouettes op. 17b for clarinet and piano, where silhouette-like contours increasingly emerge from an initial "jumble of lines and dots".
Gion Antoni Derungs, Silhouetten op. 17b für Klarinette und Klavier, in house-production SRG/SSR
From the avant-garde back to tonality
Derungs composed such "musica moderna" from 1968 to the mid-1970s. Even as a student, he was fascinated by the experiments of the post-war musical avant-garde, serialism, aleatoric and minimal music, but also by the Polish School of the 1960s with its sound surface and timbre music. However, he kept his distance from the Darmstadt circles and their Summer Courses for New Music, which were setting the tone at the time.
In the mid-1970s, Derungs turned to the "simpler", neo-tonal music of postmodernism, but without wanting to join the relevant circles. He always used the musical languages of his century very freely and undogmatically, whereby everything had to have its justification. Derungs saw "hopeful perspectives" for the further development of his personal style in the regained tonality. However, since he never sought instant success, many works waited decades "in the drawer" for a first performance.
"Looking ahead": breakthrough and success
Derungs achieved his breakthrough in Graubünden with a vocal work written during this period: the opera-ballet Sontga Margriata op. 78. In his perception, returning to tonality also meant getting back to his musical roots: "Preserving tradition means looking forward", and the folk songs allowed him to create contemporary music with a native tone. From what is probably the oldest Romansh song, La canzun da Sontga Margriata, he created a contemporary work that enjoyed a successful premiere in 1981 through a Graubünden-Geneva collaboration. This nationwide success motivated him to use the Romansh language also for genres that had no tradition in Graubünden: the art song on the one hand, but above all: the grand opera, which he "invented" in 1984 with Il cerchel magic op. 101. The work received a positive response also abroad – but in Romansh-speaking Graubünden, this first "opera rumantscha" has since been regarded as a musical milestone.

Gion Antoni Derungs, Il cerchel magic (der magische Kreis), 1984, in house-production SRG/SSR
Over the years, Derungs composed a large number of instrumental works: from small-scale chamber music and solo concertos to large symphonies – all of which he composed on his own initiative. Over the years, however, he also received commissions from a wide variety of formations at home and abroad, for which he created works tailored to the performers in the shortest possible time. Furthermore, Derungs also set a crime story, a fairy tale and the dramatic life of Red Cross founder Henry Dunant to music; his later work were three sacred vocal operas for the Origen Festival in Surses, based on multilingual libretti by its director Giovanni Netzer. The works are based on a mixture of free-tonal harmonies, impressionistic colours, motet-like techniques and a strong word-sound relationship.
"Everyone must step down at some point"
This tonal language showed its maturity in his last a cappella choral work, the Nachtgebet Complet op. 189, which Derungs completed in 2011. In that year he was diagnosed with cancer and suddenly had to get used to the idea of imminent death. In fact, death had accompanied him since childhood and over the years it also found its way into various compositions, connecting them to a certain extent thematically, for example the Requiem op. 74 with the 2nd Symphony op. 110, the Mourning Symphony, or the Sontga Margriata with the 8th Symphony «Sein-Vergehen» ("To Be – To Pass Away"). "Everyone must step down at some point," Derungs noted about his 8th Symphony. "And we are all aware of this."

Gion Antoni Derungs, Sinfonie Nr.8, op. 158 (2002/2003), in house-production SRG/SSR
Gion Antoni Derungs died on September 4, 2012, two days before his 77th birthday. He left a huge oeuvre with 191 opus works and hundreds of compositions without opus numbers. As early as 1996, he was awarded the honorary title of «Orpheus der Rätoromanen» ("Orpheus of the Rhaetians"), an artist who transcends borders and transfers the local musical tradition into art. However, the highest honour that can be received by a Graubünden citizen was to follow posthumously: in 2015 Derungs was chosen by the Romansh media as "in dils nos" (one of ours).
He never denied his Romansh roots and always considered the "little wishes" of his homeland.
Laura Decurtins
Laura Decurtins is the author of the new biography on Gion Antoni Derungs, published by Chronos in the fall of 2022.
The Chur Gion Antoni Derungs Festival took place from September 1 to 4, 20220, among other places at the Theater Chur, and was mainly performed by the ensemble ö! The concerts were recorded in total on video by RTR and are available on neo.mx3.
Gion Antoni Derungs / Fundaziun
Duri Sialm, Giusep Huonder, Gieri Cadruvi, Quartet grischun, Esther Sialm, Giovanni Netzer, Henry Dunant
radio features SRF 2 Kultur:
Neue Musik im Konzert, 14.12.22: Gion Antoni Derungs-Festival in Chur, author Cécile Olshausen
neo-profiles:
Gion Antoni Derungs, Ensemble ö!