Sonic Matter – Festival for Experimental Music takes place for the second time this year from 1 to 4 December in Zurich. Under the multi-literal motto Rise, the festival points beyond itself. One focus being on music creation in sub-Saharan Africa.
Friedemann Dupelius
"It matters what matters we use to think other matters with", writes philosopher Donna Haraway. The Zurich festival Sonic Matter understands sound as something that matters. With sound and music, we can think about things that transcend it. Sound can be a gateway to the world, listening a way of reflecting and engaging with our environment. In the second edition of the festival, which succeeded the Zürcher Tage für Neue Musik in 2021, this perspective becomes apparent.
With "Rise", the middle word of the motto triad Turn – Rise – Leap now provides the guiding thought impulse: "This can be understood in the sense of growing or emerging – or also as something resistant, rebellious, that aims at expanding boundaries," Lisa Nolte explains. She, too, is part of a triad. Together with composer Katharina Rosenberger and artist and curator Julie Beauvais, they form of the core team behind Sonic Matter since its conception in 2021. The subtitle "Platform for Experimental Music" makes two things clear: Sonic Matter thinks beyond the boundaries of a festival. It is not over after four dense days, but sees itself as an ongoing process. In addition, the term "experimental" signals aesthetic breadth. According to Lisa Nolte, the aim is "to have as much scope as possible for sound-based current art forms". On the one hand, there are formats with contemporary music as it has established itself in Europe – with for example, the Tonhalle Orchestra performing music by Peter Ruzicka and George Enescu, or Collegium Novum Zurich playing Iannis Xenakis' Φλέγρα (Phlegra) alongside a world premiere by Laure M. Hiendl. But Lisa Nolte adds: "New music is often about a very specific idea of quality, which is not to be found everywhere. Other approaches can be very stimulating."

Iannis Xenakis – Φλέγρα (Phlegra) (1975), played by Ensemble Phoenix Basel
Listening, thinking and dreaming with archives
These approaches can come from other forms of music and art, or even from places in the world that have long received too little attention. The duo Listening at Pungwe from South Africa and Zimbabwe, for example, has a very unique artistic approach to sound. Memory Biwa and Robert Machiri collect music and field recordings from their home regions. They understand this material as a sound archive whose contents they put in a new context during their performances and listening sessions. The eponymous term "Pungwe" is reminiscent of the ritual of a wake, during which those who attend are in a particularly alert state – a state that also makes it possible to dream of a better future or to motivate oneself for uprising.
A Live-Session by Listening at Pungwe in Kapstadt 2017
Sound and music archives are indeed such a "Matter" with which other "Matters", like things or topics can be thought about. Collected sound recordings contain information about history, social and political circumstances and much more, offering the possibility of imagining and dreaming about how the world could be. In this sense, the students in the Once Upon A Sound project with Roman Bruderer, Peter Nussbaumer and Iva Sanjek have created their own sound archives, which they will present at the festival during dedicated listening sessions and DJ sets.
The people of all ages who worked with artists Léo Collin and Manon Fantini also sharpened their ears to the sounds of their surroundings, resulting in the installation Play The Village. In the joint listening sessions with the cozy title Soft Pillows – Hot Ears, the focus is also on listening together. Moroccan artist Abdellah M. Hassak will present an entire symphony of archives in the Walcheturm art space.

Noémi Büchi plays "live from the Listening Lounge" (3.12.) at Kunstraum Walcheturm
Another focus of Sonic Matter 2022 is the sub-Saharan region of Africa. In addition to Pungwe, artists from the Ugandan music festival and label Nyege Nyege will be in Zurich. Label founder Rey Sapienz, for example, will be DJing at the party in the Gessnerallee, stating what Lisa Nolte already knows: "Listening is an active procedure, which also becomes apparent when music puts you directly into physical movement." Dancing is also Sonic Matter – a sonic experience and the moment when sound becomes embodied matter. Latefa Wiersch, Rhoda Davids Abel and Dandara Modesto tell of dreams and longings for the lost African homeland in their interdisciplinary performance Neon Bush Girl Society, exploring legends of the fled ethnic groups Nama and Damara from southern Africa.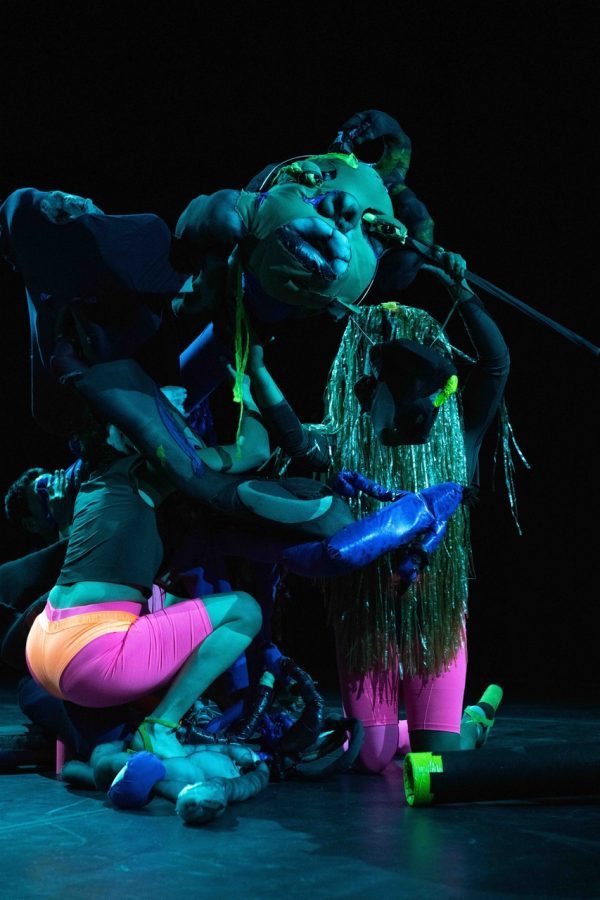 Sonic Matter is always
Sub-Saharan Africa 2022 is prominently featured also in the Open Lab. With this permanent format, Sonic Matter emphasises that it takes place 365 days a year. At the Open Lab, experts from various fields, like arts, science and civil society work together on urgent issues in their respective regions of the world. The individual projects deal with indigenous peoples in Uganda and Mozambique, the cultural and political life of South Sudanese refugees in Kenya or historical sounds in Johannesburg. The online platform is continuously updated. Another project that keeps the sound and thought processes going around the clock is Sonic Matter Radio, as Sonic Matter is not only four exciting days of music, sound and art in Zurich – it is also a permanent state of listening, thinking and narrating around the globe. According to Donna Haraway, narratives create the world: "It matters what stories make worlds, what worlds make stories".
Friedemann Dupelius
Sonic Matter: 1.-4.12.2022 in Zürich
Sonic Matter Radio, Sonic Matter Open Lab
Partner festival 2022:
Nyege Nyege (Uganda)
SRF 2 Kultur:
Sonic Matter 2021 at neoblog @neo.mx3
SRF report on Sonic Matter 2021
Donna Haraway, Roman Bruderer, Laure M. Hiendl, Latéfa Wiersch, Manon Fantini, Rey Sapienz, Listening at Pungwe
neo profiles:
Sonic Matter, Katharina Rosenberger; Iannis Xenakis; Léo Collin; Collegium Novum, Tonhalle-Orchester Zürich, Olga Kokcharova, Noémi Büchi