Theresa Beyer
Streaming generation and experimental electronics: students of Hochschule für Musik FHNW Basel's Electronic Studio have composed works for Radio SRF 2 Kultur, thus continuing a long-standing tradition of electronic music.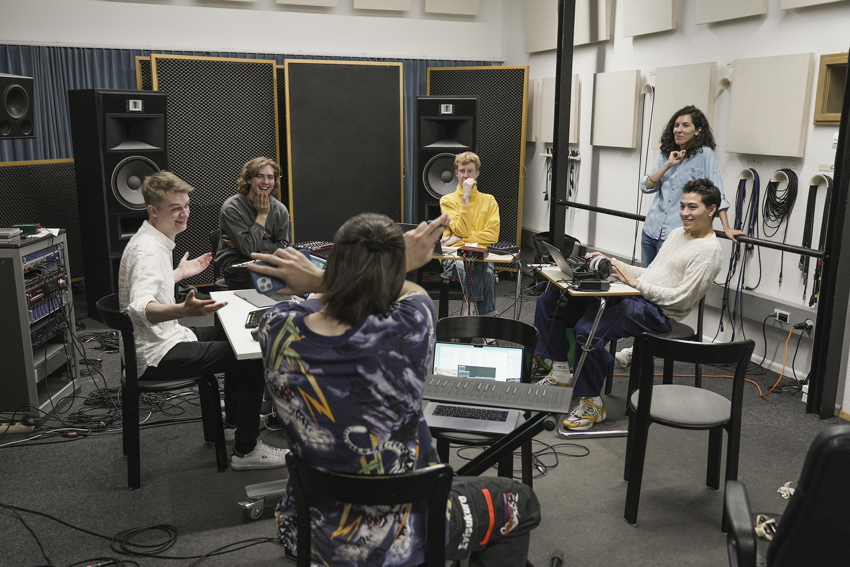 Radiophone Klangkunst (Radiophonic sound art) are experimental works that musicians develop especially for radio. Whereas radio plays are narrated in this case the pieces consist in sound alone. Such radio pieces have their specific laws, the listening situation being less focused than during a concert. You don't know whether the audience is listening via headphones, stereo or an old kitchen radio and whether they are talking on the phone or washing dishes in between.
"That's why the composition must not be too delicate in its details and tension is important," says audio design student Martin Reck, who is currently completing his Master's degree at the Electronic Studio and has been awarded the Zurich Nico Kaufmann Prize, which this year honours young musicians from the field of electroacoustic music.
Recordings on a rusty steel bridge
For his piece "Two Bridges", which he composed for Radio SRF 2 Kultur, he spent a day on a disused railway bridge that crosses the Wiese river close to Basel. There he recorded his voice, his steps and percussions on the rusty steel.
He then edited these field recordings electronically on the computer, adding effects, filters and synthesizers. His approach is a narrative, perhaps even a therapeutic one as in his piece he processes a brutal scene from Ivo Andric's novel "The Bridge over the Drina", which has stuck with him to this day.

Martin Reck, Zwei Brücken, UA Basel 2022, in house-production SRG/SSR
Tribute to a nostalgic media
The composition student Isaac Blumfield has also worked with field recordings of birds, forests or water. In his piece "Worn like a map", he condenses them into a multi-layered composition between real and abstract. The acoustic images he creates are powerful: "I had dreams in mind when composing. But not the beautiful ones, rather confusing and contradictory ones."
Putting these images into a composition for the radio was challenging, says Blumfield: "With radio, you never know when the audience tunes in, so the piece has to work even if one has missed the first five minutes."

Isaac Blumfield, Worn like a map, UA Basel 2022, in house-production SRG/SSR
To him, who usually streams music and tends to listen to podcasts, radio is a nostalgic media. It reminds him of his childhood in Minnesota: "I used to listen to the radio with my parents on long car rides and discovered music I would never have come across otherwise."
Electronic sound labs on the radio
The collaboration between Electronic Studio and SRF 2 Kultur follows a long tradition. For the history of electronic music is closely linked to radio: In the 1950s, public radio stations such as RTF in Paris, WDR in Cologne or Rai in Milan founded the first electronic studios. In the post-war years, radio was the main information source and it was equipped with the latest technology, like oscillators, sequencers, synthesizers or tape machines.
"The pioneering works of electronic music were produced in these studios and found their first audience through radio," says Svetlana Maraš, professor of Creative Music Technology and co-director of the Electronic Studio. In 1954, for example Luciano Berio and Bruno Maderna composed "Ritratto di Città", describing a fictional day in the city of Milan using only sounds, giving birth to the radiofonic composition genre, which the Basel students are following up on today.
Electronic music's evolution
The electronic studio of the Basel Music Academy was founded in 1975, and students could already take introductory courses in electronic music. Having access to a highly specialised studio was a great privilege at that time. Today, students create electronic music on their own laptops and come from a DIY culture with a great deal of prior knowledge.
But that doesn't mean that digital is always better: audio design student Louis Keller is very fond of the old synthesizers and analogue devices to be found in the Electronic Studio Basel.

Louis Keller, Bradycardia, UA Basel 2022, in house-production SRG/SSR
For his performance, he recorded piano chords on tape and stretched them several metres across the room from one machine to another. "The analogue sound has a unique breadth and depth to it." For the semester project with SRF he has now adapted his performance "Bradycardia" for radio.
In other words, each student of the Electronic Studio Basel approached the task of composing for the radio in a very different way. As if by magic, this led the podcast generation to develop a new fascination for this 100-year-old media.
Theresa Beyer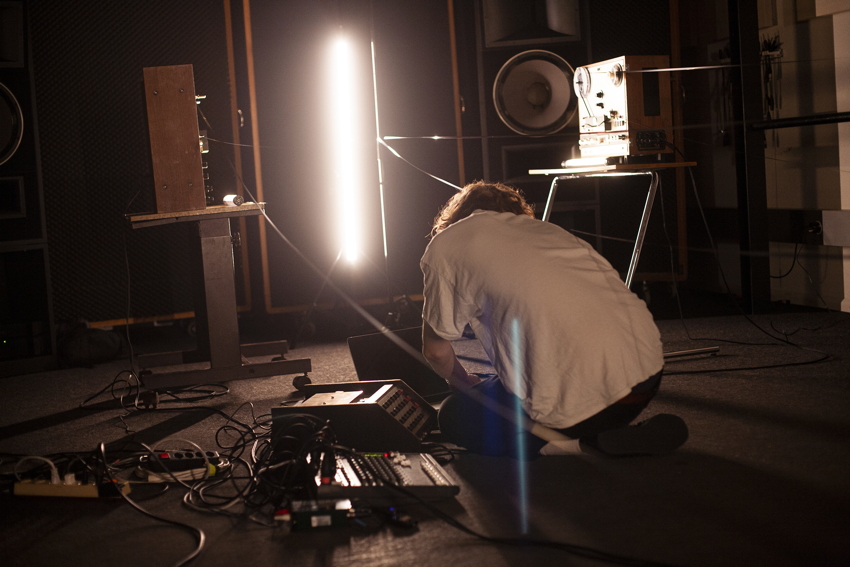 broadcasts SRF 2 Kultur:
Neue Musik im Konzert, 29.6.22: Classical and Jazz Talents – Live from SRF-Auditorium, Redaktion Annina Salis: Live concert new electronic music with Svetlana Maraš' students – Elektronisches Studio Basel.
neo-profiles:
Svetlana Maraš, Elektronisches Studio Basel,  Tim Shatnyy, Dakota Wayne, Anton Kiefer, Cyrill Jauslin, Louis Keller, Isaac Blumfield, Janik Pokorny, Minh Phi  Guillod, Martin Reck