Christian Fluri: Helena Winkelman – Composer in Residence @ Sinfonieorchester Basel 20/21
Helena Winkelman, composer, violinist and artistic director of the distinguished Camerata Variabile ensemble, is one of Switzerland's most interesting and unconventional internationally renowned musicians and this year's Composer in Residence with the Basel Symphony Orchestra (SOB).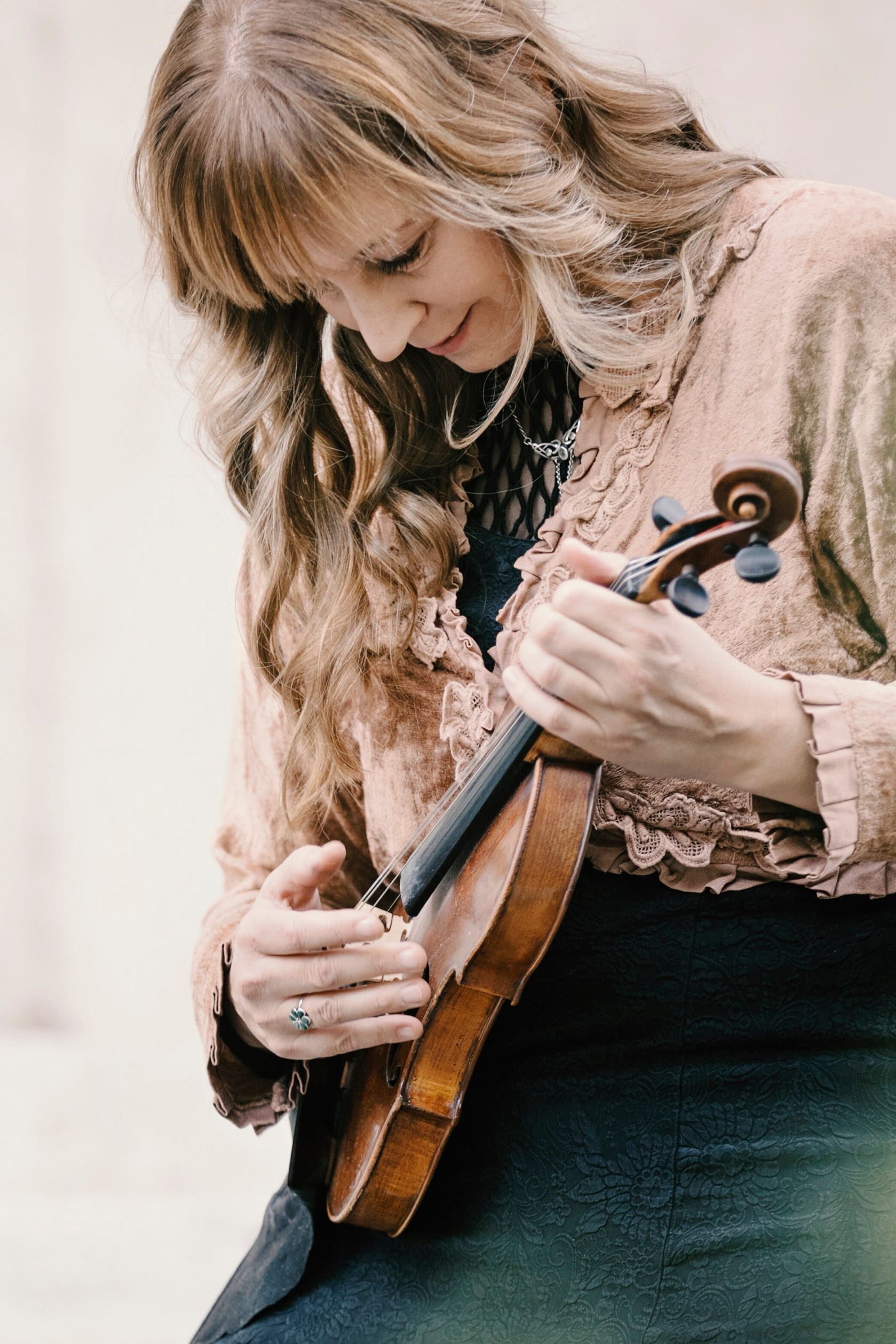 The work of Helena Winkelman includes chamber music, choral and orchestral works as well as opera and musical theatre. In her compositions she develops her own musical language, which reflects our times and is based on a wide variety of influences, such as Baroque, Jazz and various folk music, combining complexity with playfulness and profoundness with joy of life.

Helena Winkelman, Camerata Variabile: Papa Haydn's Parrot (2016)
The SOB already commissioned Winkelman with three new pieces: Einkreisung and Gemini, whose premiere will be conducted by Ivor Bolton, SOB's main director and Goblins for six percussionists. All three works are structured for theatrical purposes and have their own lighting concept.
Einkreisung for eight alphorns – mountain atmosphere in town
Einkreisung is one of the works that will inaugurate the renovated casino, which will present its new looks on August 22. The piece is written for eight alphorns of different lengths and tunings.
"The idea is based on the traditional Swiss alpine blessing." explains Winkelman "For the opening of the city casino, I wanted to bring the mountain atmosphere into town and into the music hall, in order to provide the urban world with some earthiness and peace."
The eight alphorn players, the Hornroh-Quartett together with four horn players of the SOB will be distributed both on stage and in the galleries, thus encircling the audience. Winkelman describes "Einkreisung" as a work that dramatically employs the alternation between quiet, almost traditional-sounding alpine greetings and strong sound layers along the instruments' overtones. The sound will be passed on in a circular manner, creating an effective setting to highlight the new concert hall.
Helena Winkelman, Granithörner (Teaser), Camerata Variabile &Balthasar Streiff, 2018
Gemini – Staged interactions
Gemini, a concerto for two violins and orchestra, was written by Helena Winkelman for two great musical personalities, Patricia Kopatchinskaja and Pekka Kuusisto: it will be premiered at the SOB's first season concert in September. The concert consists of nine short scenes, each of which portrays possible relationship modes between two people. Both soloists will be accompanied by a drummer each, moving through the piece with them during the performace. The last three scenes "Battleships", "Partners in Crime" and "Horsing around" bring various folk music elements into play in a humorous, rapid question and answer game between soloists and orchestra. The climax of the piece is reached in a staged duel, in which the solo double bass intervenes alongside the two secondary percussionists.
During a long conversation about her music, Helena Winkelman talks about the creative process and the connection between art and life itself.
"At the beginning of a work there is often a sound that is formed by a combination of body tension, gesture and tactile imagination" she says. "These three elements in turn arise from an inner sensation or atmosphere.
In all these years I came to the insight that in the end there is no big difference between composers and non-composers, because just as in composing, there are also decisions to be made in life, along which one's own path then unfolds. Every detail is important, the reasons are important, everything influences and intertwines. This is often an overwhelming task.
As composers we hold a magnifying glass over these decision-making processes, showing that, ideally, it is possible to make a good choice.
Conscious shaping of the world
Here I would like to contradict the often-expressed belief that art is there to interpret, reflect and process life. We find ourselves in a world of glorification of the executive. Consequently, art is perceived as being of little importance. But what if instead life asked OURSELVES for a possible, desired direction and much more than we think would depend on our creativity and vision?
Music could be our encouragement and training to awaken this creative potential and to consciously shape our world – as artists do – at any given time."
Christian Fluri

Helena Winkelman: Atlas für Solocello (Nicolas Altstaedt), Cello und Streicher, 2019, Solist: Cello
Uraufführungen Helena Winkelman & SOB:
Einkreisung, August 22 (reopening Stadtcasino Basel), August 26, Special Concert: Neue Welt. Alphorn soloists: Hornroh-Quartett, SOB: Diane Eaton, Megan McBride, Eda Paçaci, Lars Magnus
Gemini, October, 9. and 10. Concert: Duel, Stadtcasino Basel.
Due to family reasons one of the soloists Pekka Kuusisto had to cancel. The composer herself will step in and perform his part.
Goblins, February 4, 2021, in: Concert Solmidable, Stadtcasino Basel.
Helena Winkelman, Sinfonieorchester Basel, Camerata Variabile, Casino Basel,  hornroh modern alphorn quartet, Balthasar Streiff
Broadcasts SRF 2 Kultur:
Kontext / Künste im Gespräch, September 3, 2020, 9am/6pm: Annelis Berger im Werkstattgespräch mit Patricia Kopatchinskaja und Helena Winkelmann.
Musik unserer Zeit, September 9, 2020: Portrait Helena Winkelmann (Annelis Berger)
Neo-Profiles:
Helena Winkelman, Sinfonieorchester Basel, Camerata Variabile, hornroh modern alphorn quartet