Dieter Ammann, composer of major orchestral works and self-confessed slow writer, celebrates his 60th birthday with concerts by the Basel Sinfonietta and the Lucerne Symphony Orchestra, among others.
Music editor Florian Hauser met him for a personal portrait interview: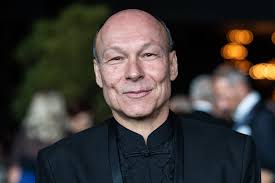 One soul
…of a man. Who, if he takes his time, will ask, tell, laugh and live, during an interview for example, over coffee and Easter eggs and tobacco, and very slowly, imperceptibly, gets to the point, through various layers of concentration. Or – that can also be the case – the associations jump and the topics chase each other. A meeting with Dieter Ammann is a direct expression of what is going on in his mind. Where they live: the …
Two souls
… in his chest. From which he sucks energy: There's the improvising, forward-rushing one, and the composing, reflecting one. They fuel each other and one appears like the reverse image of the other. When they meet, forces that pull in different directions and stretch the music to breaking point are being created. When improvising, the performance, the fellow musicians, the groove forces you to stay in the flow and keep going. When he has an idea, he plays it. If, on the other hand, he has an idea as a composer, then he dissects it, puts it to test. That's when this unconscious is stopped. Time is stopped. He then tries, experiments, tests the ideas to see if they are any good and how good they are. In this way, the music Ammann composes is like a frozen improvisation. "When I'm finished with a piece," says Ammann, who is a slow writer, "it's like a piece of jewellery for me, a gem that I've polished. I then put it away, look in the next box – which is completely empty and I start all over again."

From 2014 to 2016, slow writer Dieter Ammann composed his orchestral work "glut", here in the recording with the Lucerne Festival Academy Orchestra, Dir. George Benjamin, September 1, 2019, KKL Lucerne Festival, SRG/SSR production
Many souls
Dieter Ammann has jammed with old rocker Udo Lindenberg as well as jazz legend Eddie Harris, he played trumpet, saxophone and bass with the Donkey Kongs and in Steven's Nude Club, and performed at the Cologne, Willisau, Antwerp and Lugano jazz festivals.
He studied composition and theory with Roland Moser, Detlev Müller-Siemens, Witold Lutoslawski and Wolfgang Rihm. Then, at the beginning of the 1990s, the Ensemble für Neue Musik Zürich presented him during a concert with composing jazz musicians. That was an initial spark with many consequences: first a CD, then awards and he became more and more known, as composer-in-residence in Davos for example and subsequently at the renowned Lucerne Festival. One prize after the other: Swiss Music Prize, main prize of the IBLA Foundation New York, sponsorship prize of the Ernst von Siemens Music Foundation (one day he might receive the Siemens main prize, 'Nobel Prize' of music…).
What is so special about Amman's fast, vital music? That it knows no idle time. It bears constant movement as well as the unexpected and it can constantly implode or explode.
With the result that the energy of his music immediately comes through, it is not the kind of music where you feel you have to bite through a thick shell before you can get to the core. No, the connection is quickly established, one is not only invited, but virtually pulled and carried along.
Even more souls
This is something that his students sense and benefit from as well. For over 30 years, Ammann has taught classical composition, jazz composition and arrangement as well as classical theory at the Lucerne University of Applied Sciences and Arts. He encourages and challenges his young colleagues, because he is by no means the kind of teacher that whishes to breed successors. "I don't want to force students into predefined aesthetic directions, but rather encourage them to go their own way and develop the musical language that is already present in each and every one of them."

Two orchestral works by Dieter Ammann's students will also be premiered at the Basel Sinfonietta's birthday concert, including one by young composer Aregnaz Martirosyan (*1993), orchestral piece Dreilinden: first creation Armenien national Philharmonic Orchestra, Mai 14th 2021
Where else will his own language lead him? In which direction will it develop? No idea and that is just fine. "Perhaps it is precisely this uncertainty and this permanent search that really attracts me to composing. The exciting thing about composing is this "it's-so-not-there-yet" and I have to work it out somehow."
Ammann is the kind of guy who can watch the work do itself and observe from a bird's eye view, so to speak. "I'm not the bird, I'm more the frog. When I see two crossed blades of grass in front of me, I have to decide whether to go around to the right or left, slip through the middle or jump over. But I can't look at the blades of grass from above. An example: vertically, i.e. harmonically, every tone has to be set is in a meaningful relationship to every other tone. It is obvious that this leads to an extremely lengthy decision-making processes, especially in an orchestral texture. As an intuitive composer, I cannot shift any responsibility to the predisposition of the musical material, since these actually don't exist. Apart from the pitch, the same applies to all other musical aspects, including the unplannable development of the overall form: in all matters, I am the only, always uncertain (and insecure) judge."
Ad multos annos, dear frog!
Florian Hauser

Udo Lindenberg, Eddie Harris, Detlev Müller-Siemens, Witold Lutoslawski, IBLA-Foundation – New York, Ernst von Siemens Musikstiftung, Jazzfestival Willisau, Estival Jazz Lugano
Basel Sinfonetta «Musik am Puls der Zeit», 23.5.22: Dieter Ammann – Sechzig Jahre im Groove, talk with Robin Keller and Baldur Brönnimann
birthday concerts:
Basel Sinfonietta:
Donnerstag, 26. Mai, 19h, Stadtcasino Basel : 5. Abo-Konzert «60 Jahre im Groove», Dieter Ammann: «Unbalanced instability» für Violine und Kammerorchester (2013), «Core» (2002), «Turn» (2010), «Boost» (2000/01) für Orchester, Dirigent Principal Conductor Baldur Brönnimann, Solistin Simone Zgraggen (Violine)
18h Pre-Concerttalk Dieter Amman & Uli Fussenegger (Leiter Zeitgenössische Musik Hochschule für Musik FHNW) / Vorkonzert Studierende FHNW
Sonntag, 22. Mai,19h, Club auf dem Jazzcampus Basel: Dieter Ammann live in concert im intimen Rahmen als Improvisator auf Keyboards, an der Trompete und am Bass, mit Jean-Paul Brodbeck (Piano), Christy Doran (Guitar) und Lucas Niggli (Drums, Percussion)
Luzerner Sinfonieorchester:
Dieter Ammann zum 60. Geburtstag: "Glut", 31. 5. 2022, KKL, 19:30h, Dir. Michael Sanderling
Sendungen SRF 2 Kultur:
Musik unserer Zeit, Mittwoch, 18.5.2022, 20h / Samstag, 21.5.2022, 21h: Durchwachte Nacht. Mit und zu Dieter Ammann, Redaktion Florian Hauser.
Musik unserer Zeit, Neue Musik auf dem Sofa, Mittwoch, 23.2.2022: u.a. über glut von Dieter Ammann, mit Doris Lanz und Marcus Weiss, Redaktion Benjamin Herzog
neoblog, 21.8.2020: Ich bin einer der langsamsten Komponisten Europas, Dieter Ammann im Gespräch zum Film Gran Toccata, Autorin Gabrielle Weber
Neo-Profiles:
Dieter Ammann, Basel Sinfonietta, Wolfgang Rihm, Roland Moser, ensemble für neue musik zürich, Aregnaz Martirosyan, Davos Festival young artists in concert, Lucerne Festival Contemporary, Swiss Music Prices, Luzerner Sinfonieorchester