Fritz Hauser, percussionist and composer, received one of the Swiss Music Prizes 2022.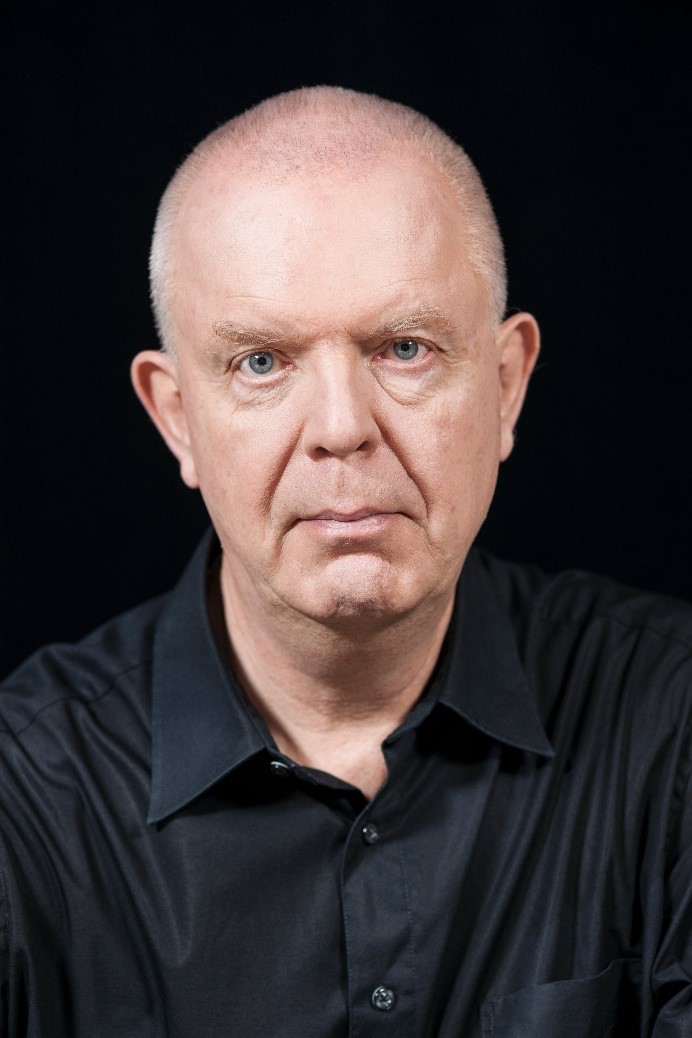 Florence Baeriswyl
Fritz Hauser, you have been shaping the Swiss musical landscape for quite some time. Have there been moments when you wanted to give it all up?
Yes, sure, such moments happen again and again. It has much more to do with the circumstances than with the music though. It's a rocky road when you're a self-employed, freelance artist. Sometimes you long for a nicely regulated 5-day week and paid holidays. But it's a fantastic job and I love what I do.
What is that that keeps you hooked to the music during those moments?
I am a disguised "synaesthete" and very much interested in other forms of expression, be it painting, dance, film, photography or literature. I like to think a bit like the British director Stanley Kubrick: nothing is more inspiring than inspiration. When I'm really stuck, I go to the movies or visit a museum, read a book and I eventually always come up with something.
Percussion is freedom
You've always been looking for exchange in your music. In "Chortrommel", for example, two choirs sing together with percussion. Why did you choose choirs?
The drums are a very abstract kind of instrument, like an open field where one can work with noises and sounds and overtones, because drums and cymbals not tied to melody nor harmony. The voice can adapt well and immerse itself in this field – creating some exciting sound combinations.
Percussion is therefore freedom?
Absolutely. I can play on the smallest instruments, but I can also put together a huge range of tools and instruments, move from free forms to quite classical forms of music. I can play rhythmically or tonally and make abstract sounds. In short, I can draw and create with and from anything that comes up.
The soundscapes you are talking about can become very large in some projects. In a collective performance at Lucerne's KKL, "Schraffur", 100 participants played the building – so to speak – with drumsticks and chopsticks. What do you like about such large formations?
I love working in larger formations because the sound becomes more and more abstract. I find three drums already interesting, but 50 of them become spectacular. On top of that, I like to collaborate with different kinds of ensembles and I feel inspired by different ages and cultures.
"For me, it's primarily a matter of restriction."
But you also often shift towards minimalism. Isn't that a contradiction?
I did write some minimal pieces, but I don't see myself as a minimalist. For me it is primarily about restriction. It's about 'boiling down to…', which is rather minimal-maximal: I try to get the maximum out of small things, and thus create soundscapes that are timeless.

Fritz Hauser, Schraffur für Gong und Orchester, Basel Sinfonietta, UA Lucerne Festival 2010
Space and music as partners
You refer to your solo project "Spettro" as "A Ghost Conspiracy for Percussion." Can you tell us more?
For some 30 years now, I have owned a house in Italy, which is called "La casa delle masche", i.e. "The Ghost House" in the region where it's located. Fortunately, the ghosts don't bother me, they rather inspire me. Together with director Barbara Frey, we took the energy of the house to create some kind of percussion ritual for this project. We conspired with the spirits to figure out the kind of music the spirits are likely to play in my absence.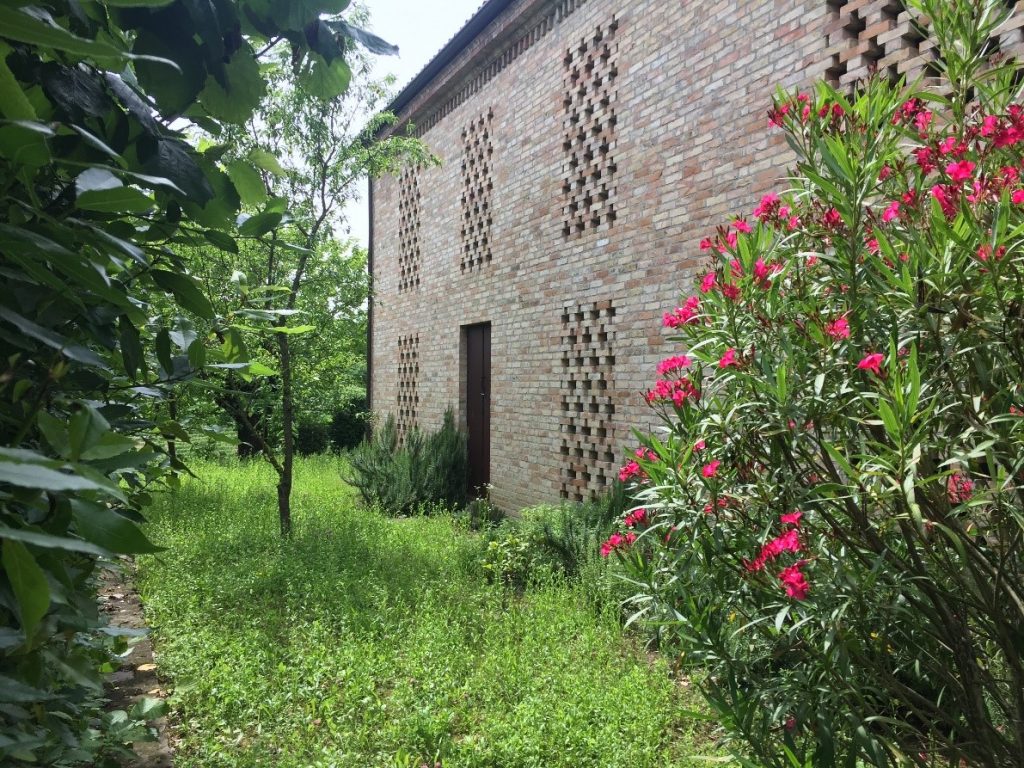 You later recorded "Spettro" at the Zaragoza concert hall – which has a special acoustic. How do you perceive the connection between music and space?
Space is the music's partner. Many years ago, I started as a drummer in a rock band and at that time we tried to impose our sound aesthetics on the rooms and spaces we would be playing in. Then, when I started playing solo, I realised that space can't be conquered, it actually plays along with the performers. I especially like it when the room reverberates. I have played in churches, cathedrals and even in parking garages. But even a phone booth can be interesting.

Fritz Hauser, Spettro – Solo for percussion, Fritz Hauser Schlagzeug, Regie Barbara Frey, Licht Brigitte Dubach, Ausschnitt, UA Lucerne Festival 2018
Architect Boa Baumann was with you in Zaragoza and you have been working and travelling with together for a long time – for example, on your house in Italy.
I have a long friendship with Boa Baumann and a common ground in aesthetics and various cultural issues. We have been working together for some 30 years and try to let inspiration work beyond professional competence. In other words, I get involved in his projects and he gets involved in mine. His ideas of space and time and design inspire me.
Can you give us an example?
A few years ago I was working on a solo programme in which I wanted to use plenty of cymbals. As a drummer, you usually sit down and just arrange the instruments in a circle around you. Boa didn't like that at all. He suggested building a landscape of cymbals on an eight-metre-long table. It looked like a skyline of a big American city. I could think spatially in a completely different way and bring in the dynamics of the body movement, which ended up creating a different kind of music.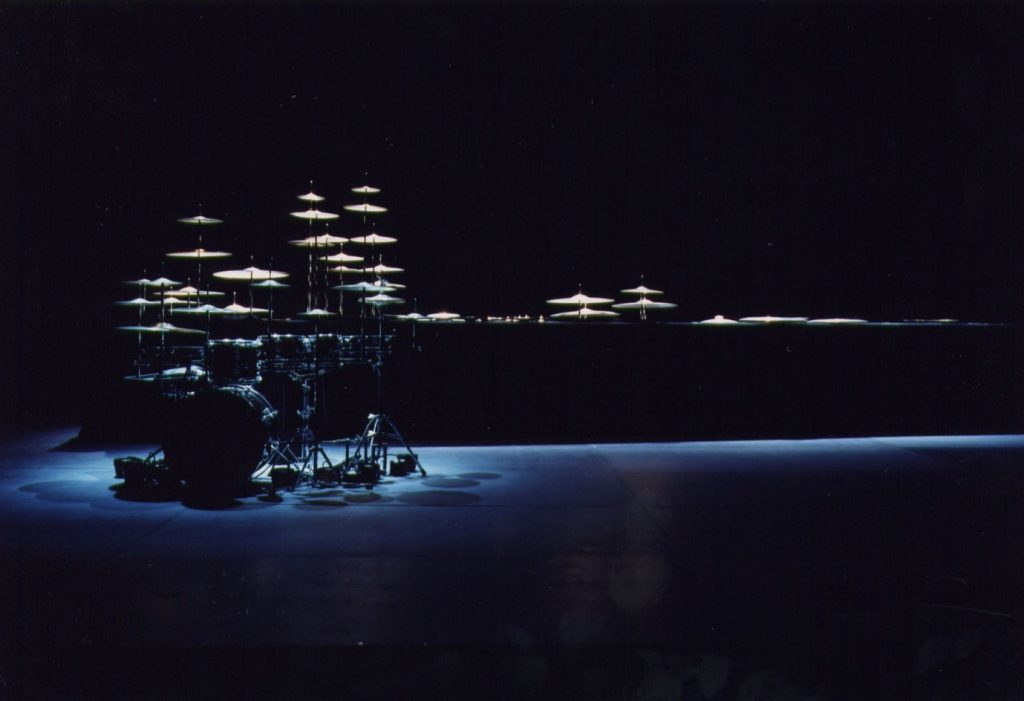 In addition to space, you also worked a lot with light. I.e. with lighting designer Brigitte Dubach on many projects. How do music and light go together?
When Brigitte complements my programmes with her lighting design, it's like having another musician playing along. She has an incredible feeling for colours and transitions from one mood to another. That suits me very well, because I have a metamorphic way of playing the drums: something develops into something else and from and from that into something new again. Especially with improvised approaches, Brigitte naturally has to feel the music and influence it accordingly with her lights, which she does in a wonderful way.
What are you working on at the moment?
I just did a performance in which my project "Point Line Area" is further developed, I performed it last year at the Ruhrtriennale with 53 percussionists. Now it been condensed to "only" 20 percussionists but on the other hand it gained twelve female singers. Then some smaller concerts, like a duo with Johannes Fischer – a German colleague – at 'überschlag', an international percussion festival in Hanover at the end of the summer. We'll get the opportunity to play in a church and also take our time to do various experiments. But I do have several bigger projects this year and I am also already planning a bit for next year. If everything works out, I'll still be very busy – even though I officially reached an age at which the word retirement is actually mentioned quite often.
Florence Baeriswyl
überschlag – internationales Schlagzeug Festival 17.-21.8.22, Hannover und Niedersachsen
19.8.22,  22h: Performance Anima Fritz Hauser und Johannes Fischer
20.8.22: Meisterkurs Improvisation mit Fritz Hauser
Boa Baumann, Brigitte Dubach, Barbara Frey, Ruhrtriennale, Johannes Fischer
Programs on SRF 2 Kultur:
Kultur Kompakt, 20.8.18: Inszeniertes Konzert von Fritz Hauser beim Lucerne Festival,  Moderation Irene Grüter

Neoprofil: Fritz Hauser