Roland Dahinden wears many hats: composer, trombonist, sound artist, improviser, conductor… During this year's Summer Courses for New Music in Darmstadt, he will present works by the US composer Anthony Braxton, with whom he has a long-standing collaboration.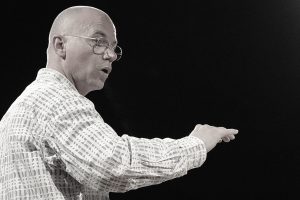 Friederike Kenneweg
Filled with music in different ways from morning to night – that's how one can imagine Roland Dahinden's everyday life. Two hours are always reserved for his trombone etudes, to which he has devoted himself daily for 40 years now. A time of full concentration on his instrument, in which nothing else has room. "It's something I look forward to every day," says Dahinden. "And after that, I look forward just as much to opening the score I'm currently composing, rehearsing, or whatever else is on the schedule. So everything has its place."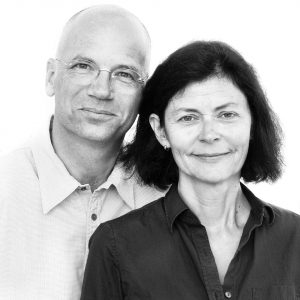 Dahinden/Kleeb a long-time duo
When at home, there is also usually piano to be heard, as his wife, pianist Hildegard Kleeb, is practising for the next performances. The two have been playing together as a duo since 1987, but also in various trio constellations, for example with percussionist Alexandre Babel or electronic musician Cameron Harris. Both pursue their respective solo careers in different ways, but also play together in completely different projects or constellations.
"We talk about music when we get up in the morning and often still are when going to bed at night," says Roland Dahinden. "That's very precious, to share this enthusiasm with someone for so long and live it together."
Panorama for trombone and piano by Alvin Lucier – 1993 – played by the duo Dahinden/Kleeb
Encounters with Anthony Braxton, Alvin Lucier, John Cage
Kleeb and Dahinden experienced a very formative time together in the USA during the 1990s. From 1992 to 1995, Roland was able to work as an assistant to Alvin Lucier and Anthony Braxton at Wesleyan University and get to know their special approach to sound, improvisation and jazz. The fact that this stay was possible at all was thanks to the intercession of none other than John Cage, who composed the piece Two5 for the duo Dahinden/ Kleeb in 1991.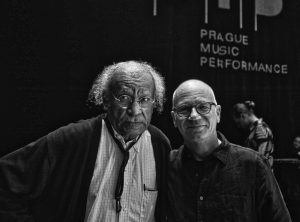 Conducting in Prague
His relationship with Anthony Braxton and the precise knowledge of his work, moving between set music and improvisation, led Roland Dahinden to rehearse some of Braxton's pieces from the Language Type Music series with the Prague Music Performance Orchestra in 2021. The ensemble, which moves between composed contemporary music, improvisation and jazz, was so satisfied with the collaboration that they asked him to be their permanent conductor. The 55 musicians in the ensemble all have their own musical projects and bring their own approaches to the table. Bringing them together to create an overall sound is always a challenge, says Dahinden – but one that he is only too happy to tackle.
Anthony Braxton in Darmstadt
This year, the PMP Orchestra, conducted by Roland Dahinden, is focusing on the world premiere of a monumental work by Anthony Braxton: the opera Trillium X. The four-and-a-half-hour multimedia opera, which Braxton worked on for over five years, consists of four acts and deals with the effects of turbo-capitalism – with global catastrophes, nuclear threats and the coexistence of humans and robots. After the premiere to be held on August 1st in Prague, the ensemble will travel to the Darmstadt Summer Course for New Music to record this great work. At the pre-opening concert in Darmstadt, the Orchestra, conducted by Dahinden, will perform a version of Braxton's Language Music and Roland Dahinden will also perform as a trombonist in Thundermusic a new piece by Anthony Braxton, premiered by an ensemble put together especially for the occasion.
After this eventful summer, Roland Dahinden will continue to work on his own compositions. One thing is certain: everyday life in the Dahinden/Kleeb household will continue to be filled with music, however it sounds. And the next exciting challenge is just around the corner.
Friederike Kenneweg
Roland Dahinden Hildegard Kleeb PMP Orchestra Wesleyan University Internationale Ferienkurse für Neue Musik in Darmstadt
Termine:
5. August 2023: Language Music with Anthony Braxton and the PMP Orchestra. Conductor: Roland Dahinden
7. August 2023: First night of Thunder Music by Anthony Braxton, with Roland Dahinden playing the trombone
Neo Profile:
Roland Dahinden Hildegard Kleeb Alexandre Babel