Friederike Kenneweg
"It's hard to concentrate on work right now," said pianist Tamriko Kordzaia when I meet her for a Zoom interview in early March. We are both shaken by the Ukraine war, but for Georgian Kordzaia, the events have another meaning. " I was there demonstrating of course, which did help, but when things go on the same way afterwards, I suddenly feel lonely here…"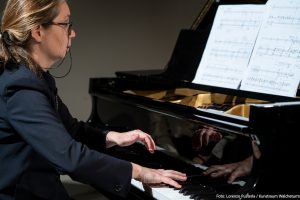 Bridges between Georgia and Switzerland
Tamriko Kordzaia has long been kind of a musical ambassador between Switzerland and Georgia. Since 2005, she has directed Close Encounters festival, which aims at performing contemporary music from both countries. The festival takes place every two years in Switzerland and Georgia. Tamriko Kordzaia's goal is to present the music of contemporary composers from both countries and thereby create encounters. In Georgia, however, it is also about bringing contemporary music to rural regions and away from the capital. "This enables all participants – musicians and listeners alike – to have unique experiences," Kordzaia emphasises.
This year, works by Peter Conradin Zumthor and Cathy van Eck will be featured alongside new pieces by young Georgian composers. Alexandre Kordzaia (*1994), Tamriko's son, is also represented at the Close Encounters Festival. He can be considered a mediating bridge between Switzerland and Georgia, but also between classical and electronic music, as he's not only known for his chamber music works, but also as a club musician under the name KORDZ.
Engagement for a forgotten composer
Tamriko Kordzaia does not only wish to present young composers however. In collaboration with two other Georgian pianists, she has also dedicated herself to the rediscovery of the late Mikheil Shugliashvili (1941-1996). In 2013, the three pianists performed Shugliashvili's Grand Chromatic Fantasy (Symphony) and released the first recording of this impressive work for three pianos on CD.
Extract of the piece Grand Chromatic Fantasy (Symphony) by Mikheil Shugliashvili at Musikfestival Bern 2020
Building bridges between formations, eras and genres
Tamriko Kordzaia is active in very different musical formations. She plays solo performances, in duo with Dominik Blum from Steamboat Switzerland or with the cellist Karolina Öhman and she's member of the Mondrian Ensemble since 2008, which covers all possible piano quartet combinations with its programmes.
Currently Mondrian Ensemble features Tamriko Kordzaia with Karolina Öhman, Ivana Pristašová and Petra Ackermann.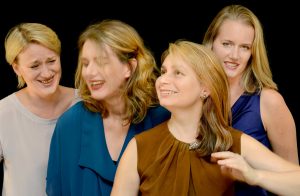 Tamriko Kordzaia has been building bridges not only between countries and formations, but also between eras. At the beginning of her career in Georgia, she first made a name for herself with her Mozart and Haydn interpretations, when continuing her studies at Zurich University of Arts, she began to explore contemporary music, with – for example – the works of the Swiss composer Christoph Delz (1950-1993), whose complete piano works she recorded in 2005. Mondrian Ensemble explicitly focusses on presenting both old and new music in its programmes, thereby unveiling unusual connections. The ensemble also implements concepts including space, stage or film play and has no reservations about collaborating with representatives of jazz or club music.
Recording of the Mondrian Ensemble playing Plod on by Martin Jaggi.
Over the long time that Tamriko Kordzaia has been with Mondrian Ensemble, firm and regular relationships and collaborations have developed with composers such as Dieter Ammann, Felix Profos, Antoine Chessex, Martin Jaggi, Jannik Giger, Roland Moser and Thomas Wally.
sieben Sonnengesichter
Tamriko Kordzaia also has a special relationship with the music of Klaus Lang, whose pieces have already found their way into some of the Mondrian Ensemble's programmes. When the pandemic brought concert life to an abrupt halt, Kordzaia decided to concentrate and deal with Klaus Lang's piece "sieben sonnengesichter" in detail. The result of this in-depth research can be heard a 2021 CD and recording.

Video of the recording session of sieben sonnengesichter by Klaus Lang. Piano: Tamriko Kordzaia.
Working with the younger generation
Something that distinguished Tamriko Kordzaia since her beginnings in Switzerland is her work with young musicians – an activity that she enjoys very much these days. At the Zurich University of Arts, she gives piano lessons and helps students find their own voice in the interpretation of not only classical but also contemporary works. In this regard, she also gets in touch with young composers, whom she advises on the development of their pieces. "It's so great to see what ideas these young people have and how they get on. It always gives me a sense of purpose and helps me to keep going, even if sometimes circumstances are difficult."
Friederike Kenneweg
Mentioned events:
Festival Close Encounters:
Dienstag, 26.4.22 Kunstraum Walcheturm – Favourite Pieces
Donnerstag, 28.4.22 Stanser Musiktage – Georgian music with Gori women choire
Freitag, 29.4.22 Feilenhauer Winterthur – Georgian music with Gori women choire
Samstag, 30.4.22 GDS.FM Club Sender Zürich – Tbilisi Madness
10 PIECES TO DESTROY ANY PARTY:
Dienstag, 3.5.22 Gare du Nord, Basel
Mittwoch, 4.5.22 Kunstraum Walcheturm, Zürich
Donnerstag, 5.5.22 Cinema Sil Plaz, Ilanz
Mentioned recordings:
Klaus Lang / Tamriko Kordzaia, sieben sonnengesichter: CD domizil records 2021.
Mikheil Shugliashvili/Tamriko Kordzaia, Tamara Chitadze, Nutsa Kasradze, Grand Chromatic Fantasy (Symphony) For Three Pianos: CD, Edition Wandelweiser Records, 2016.
Christoph Delz: Sils "Reliquie" – 3 Auszüge aus "Istanbul", CD, guildmusic, 2005.
Klaus Lang, Mikheil Shugliashvili, KORDZ, Christoph Delz
Profiles neo-mx3:
Tamriko Kordzaia, Festival Close Encounters, Mondrian Ensemble, Karolina Öhman, Petra Ackermann, Alexandre Kordzaia, Cathy van Eck, Peter Conradin Zumthor, Jannik Giger, Dieter Ammann, Martin Jaggi, Roland Moser, Felix Profos, Antoine Chessex, Zürcher Hochschule der Künste, Musikfestival Bern