Gabrielle Weber: Interview with Jeanne Larrouturou, Ensemble Batida & Diĝita: Romandie @GdN Basel_1, 26.11.10
The instrumentation is unusual… and convincing: three percussionists and two pianos. Even more unusual is the collaboration with the cartoon collective Hécatombe. At Diĝita, Geneva-based ensemble Batida combines music with comics. On November 26, at the Gare du Nord, focus of the "Romandie" season.
Basel's Gâre du Nord, the Station for New Music's main focus extends over three seasons, with three times three concerts. In the long run, this will build solid bridges to the other Swiss language region, which is of high importance, especially now, as the ensembles of the French-speacking part of Switzerland cannot perform there due to the regional lockdown.
Neoblog portrays the guest ensembles and neo.mx3 accompanies the concerts' live broadcasts together with RTS.
Episode one: Ensemble Batida Genève: A portrait
Gabrielle Weber
I met Jeanne Larrouturou, percussionist and co-artistic director, for a conversation via Zoom during the Geneva Lockdown. Larrouturou comes from France, grew up in Geneva, and after her studies at the Haute école de musique Genève (HME), she specialised in contemporary music at the Musikhochschule Basel. Since then she has been acting as bridge-builder between the two regions' music scenes.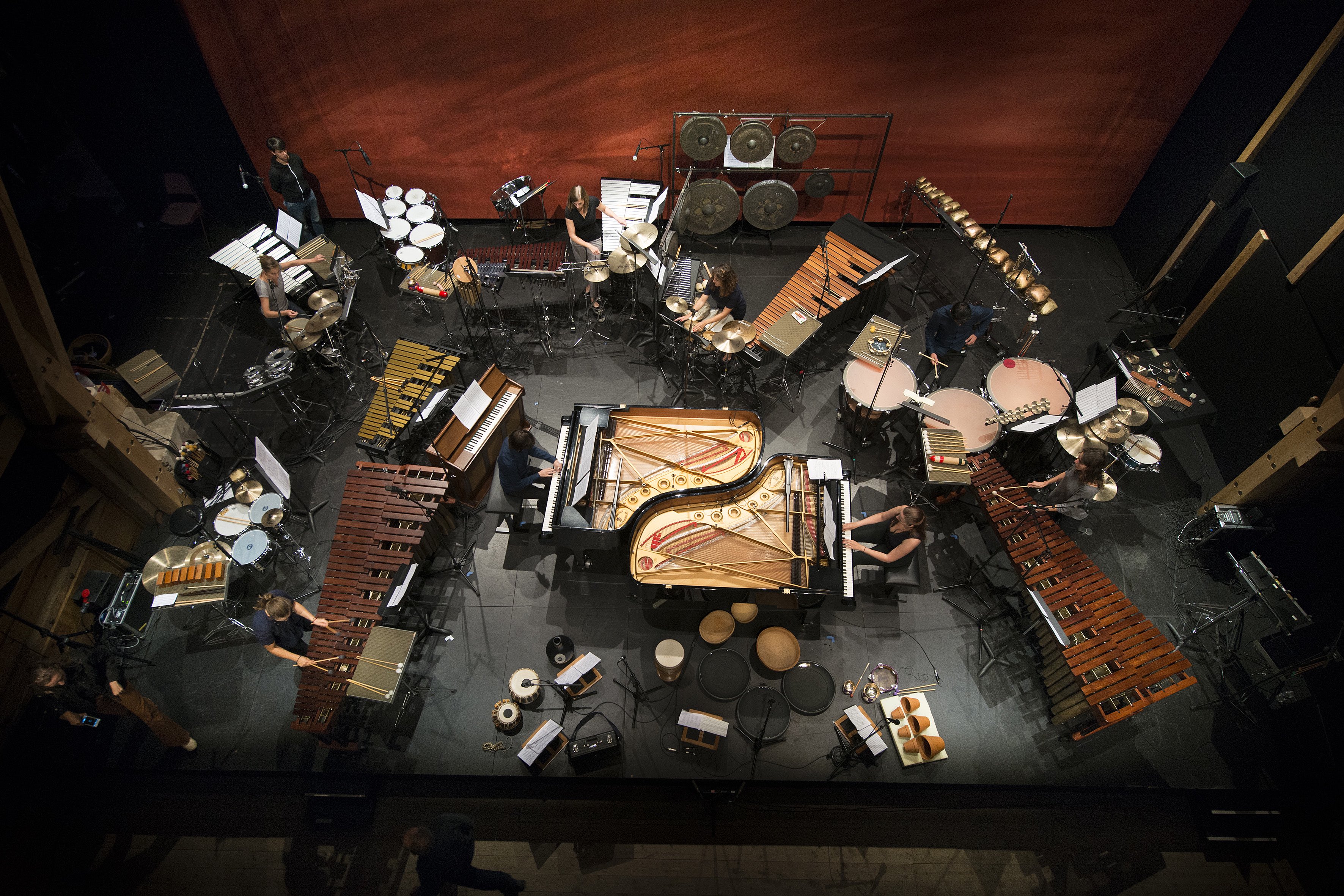 Batida's lineup was rather accidental. Larrouturou explains that the ensemble originated as a "classic Bartok formation", referring to Bartok's 1937/38 sonata for two pianos and percussion. In 2010 four of the ensemble members formed for a concert at the HME and further joint performances followed. When a percussionist left for abroad, Larrouturou stepped in and stayed. The core formation has since then remained unchanged: three percussionists Jeanne Larrouturou, Alexandra Bellon and Anne Briset complement Viva Sanchez Reinoso and Raphaël Krajka on piano.
A stroke of luck, because many new works were created for this unique lineup. On one hand by composers, on the other hand by collective composition of the ensemble's members themselves, which also began by chance. During a project with a dance company, the choreographer asked Batida to compose something. "This is how the first composition commission happened and we carried on composing together afterwards. Next came music for a project with a puppet theatre," says Larrouturou.
Ensemble Batida, Haïku, collective composition 2013
"The way we compose strongly draws on experimentation. We start from an idea of general structure, a concept and then we "go": we play, we listen to each other, record ourselves, listen to the recordings together. We structure, organise and record ". A kind of creation that combines improvisation and notation. Generally, the improvisational elements are retained.
musique de création
Batida does not want to get stuck in a set musical genre. "We see ourselves in contemporary music, but don't like what's behind that label very much" says Larrouturou. In France there are several more fitting designations: 'Musique de création' is the most appropriate for her: "it's sufficiently open, but at the same time excludes traditional 'contemporary music'."
Ensemble Batida: Mean E, kollektive Komposition 2013
The ensemble has hardly had performances in German-speaking Switzerland so far. After the Concours Nicati in Bern 2014, performances at the festival Zeiträume Basel and in Andermatt followed. Quite the opposite to the Romandie , as well as abroad, where the ensemble performed at many festivals, toured France, Russia, Portugal and Cyprus. Another tour – with Diĝita – was planned in the USA (but had to be postponed due to the pandemic).
Larrouturou explains the meagre exchanges between language regions as follows: "I have been living in Basel for about four years now and my network is in Basel, Geneva and Lausanne. It never ceases to amaze me how little the scenes know each other. At the university in Basel, I noticed that there were fundamental differences in aesthetic orientation. Certain very highly considered musicians in Basel, are hardly known in the French-speaking part Switzerland. The French-speaking part is more closely linked to France, while the German-speaking part is to Germany,".
Larrouturou curates the Lausanne concert series Fracanaüm together with composer Kevin Juillerat, a fellow student from Basel, based in Lausanne. They try to transcend such divisions. "We don't even ask ourselves where someone comes from and invite musicians from our network from both regions. I'm convinced that these small initiatives create and develop long term relationships".
But Batida is also about building bridges between divisions. Most projects are transdisciplinary and developed in collaboration with other artists, with dance, puppet theatre, architecture, video or comic artists.
The collaboration with the Geneva-based drawing collective Hécatombe is ongoing, since their first joint project in 2016.
Ensemble Batida & Hécatombe: Oblikvaj, collective composition 2016-2018
"In our first project Oblikvaj (2016-2018), it immediately became apparent, that we were on the same wavelength. Each of the five members of Hécatombe created a graphic score, in form of a 24-page black and white comic strip and Batida reacted with collective compositions. It worked brilliantly". Concerts with live encounters followed.
Diĝita is primarily about the joint creation process. "In the summer of 2019 we took a 14-day retreat in an old farmhouse in the middle of nowhere. We didn't bring any instruments, but collected and recorded existing sounds, for example big machines, tractors and engines.
Diĝita, Trailer ©Gare du Nord, Batida & Hécatombe
The title Diĝita stands on one hand for the 'fingers', on the other hand for digital vs. analogue. The recorded and sampled sounds refer to the digital realm, while the music performers work with their fingers. The musicians perform within a transparent cube, with screen-display walls onto which 3D videos by the drawing collective are projected: life-size comic figures on the videos overlap and thus alienate the real bodies of the musicians in the cube.
Diĝita was able to give a concert in Lausanne on 31 October: "It was an extreme experience as we all knew that we wouldn't be playing live again for a while, so we enjoyed the moment even more," says Larrouturou. The Diĝita tour with follow-up concerts in Geneva was unfortunately interrupted by the lockdown.
During our conversation, it turned out that Batida is celebrating its tenth anniversary this year. A party with partners and audience is planned in Geneva, but due to the pandemic it will not take place before 2021.
Gabrielle Weber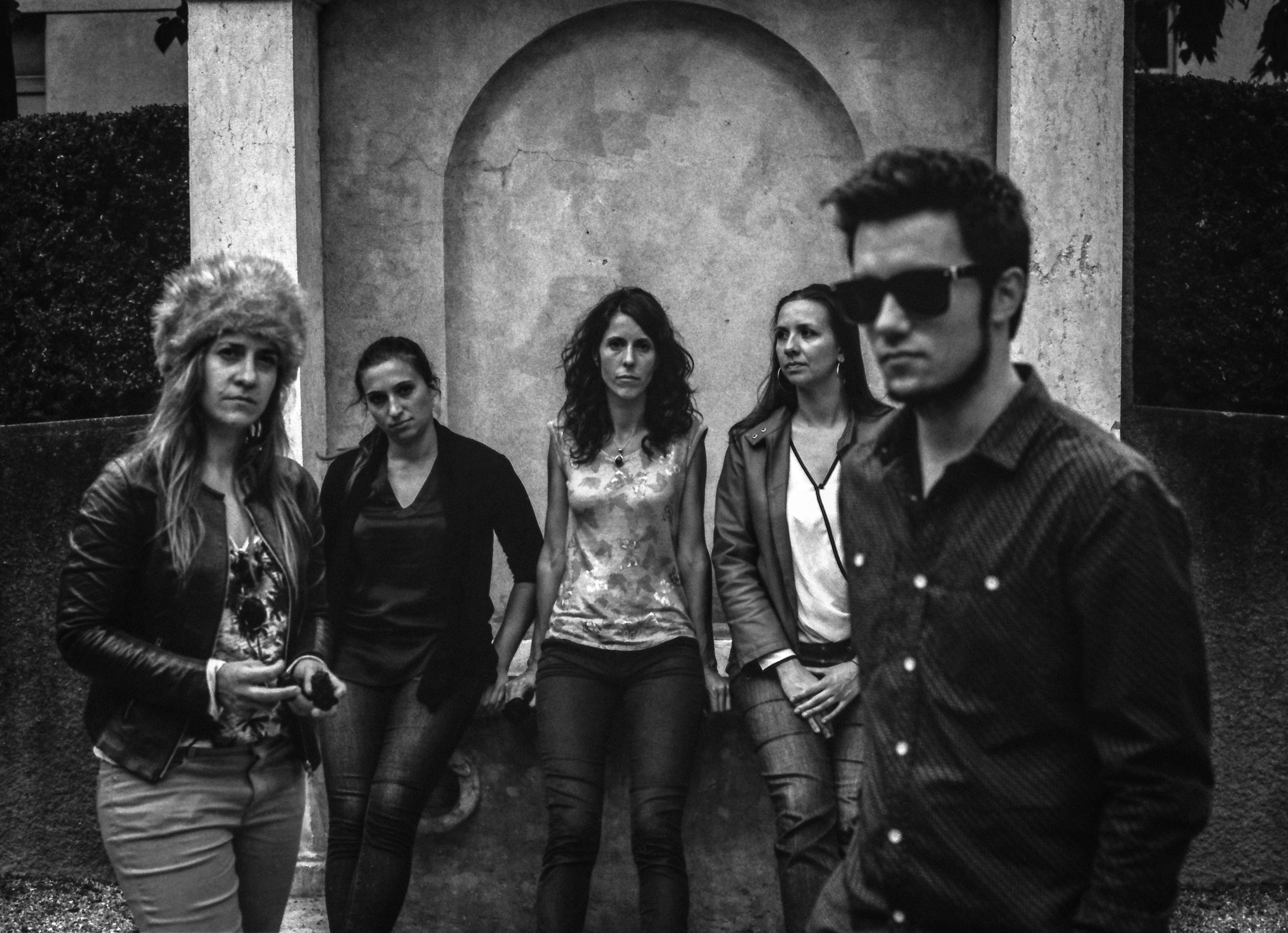 Ensemble Batida: Klaviere: Viva Sanchez Reinoso, Raphaël Krajka
Percussion; Jeanne Larrouturou, Alexandra Bellon, Anne Briset
Diĝita: Video: Giuseppe Greco, Ton: David Poissonnier
Gare du Nord: Batida & Hécatombe: Diĝita, 26.11.20, 20h
(because of lockdown in Basel, they played twice for 15 persons, combined with a Livestream for everybody else)
Ensemble Batida, Fracanaüm, Kevin Juillerat, haute école de musique genève – neuchâtel, Hochschule Musik Basel, Hécatombe,
broadcast RTS:
l'écho des pavanes, 20.11.20, rédaction Anne Gillot, Gespräch mit Désirée Meiser, Intendantin Gare du Nord
broadcast SRF 2 Kultur:
in Musik unserer Zeit zu neo.mx3, 21.10.20, Redaktion Florian Hauser / Gabrielle Weber
neo-Profiles: Ensemble Batida, Gare du Nord, Association Amalthea, Kevin Juillerat