IN CASE YOU MISSED IT: ECLAT AGAIN ONLINE FROM 17.2. till 21.2.!
Gabrielle Weber
The contemporary music festival Eclat Stuttgart is taking place online with extensive focus dedicated to the pro-democracy movement in Belarus.   
Through Maria Kalesnikava, icon of the peaceful democracy movement since September 2020 and currently in prison, the conflict has a strong connection to the Stuttgart cultural scene. As musician, educator, mediator and organiser, she was active here for many years and will be awarded the Human Rights Prize 2021 by the Gerhart and Renate Baum Foundation during the festival.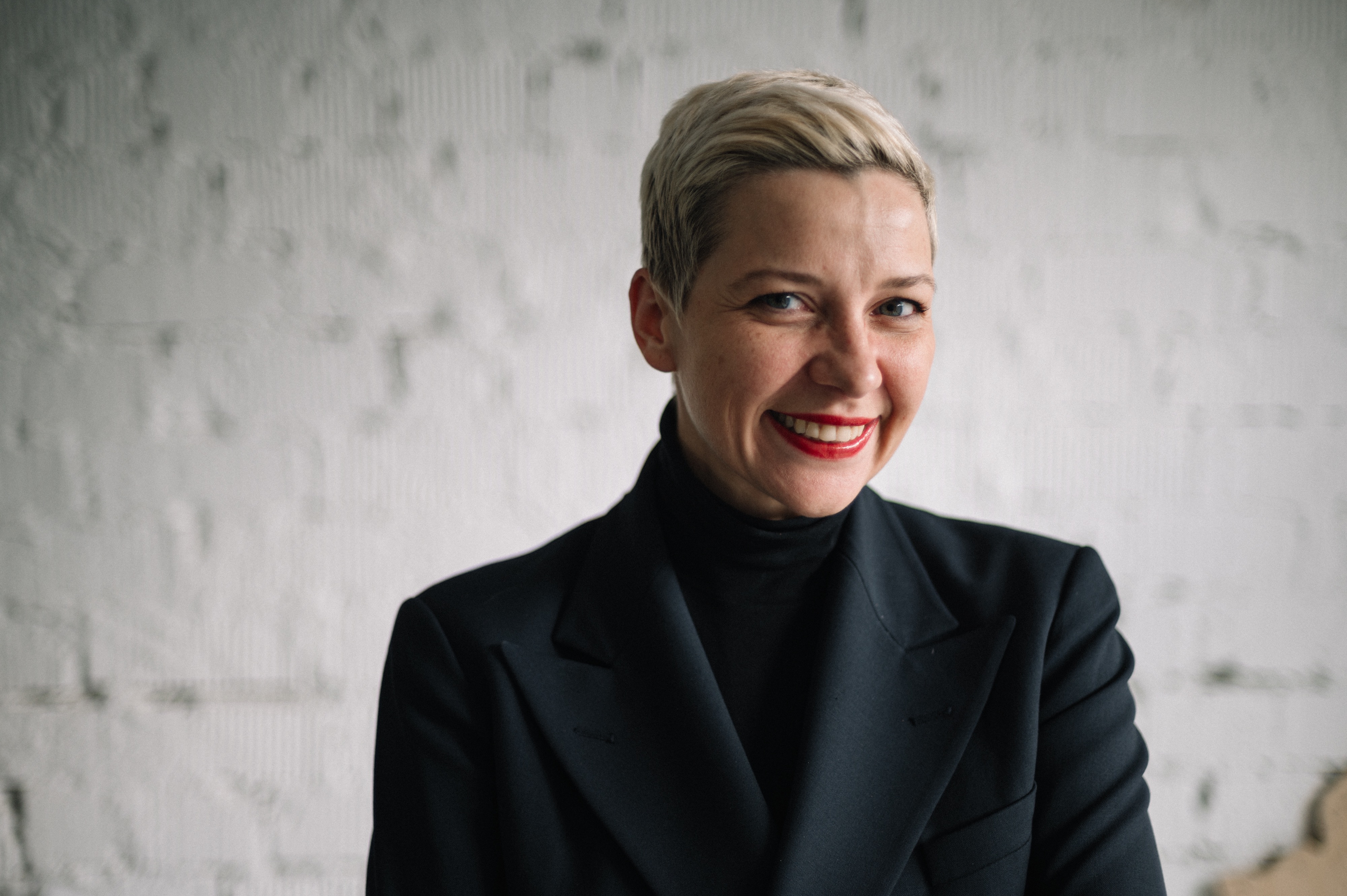 Echoes – Voices from Belarus, is a project gathering short artistic statements on the conflict by Belarusian and international artists.   
Two Swiss composers, Andreas Eduardo Frank and Oscar Bianchi, are part of this initiative and I discussed their work for Eclat with them. 
I met Oscar Bianchi in his studio in Berlin via Zoom. This renowned and internationally active composer with roots in Ticino has been associated with the Festival Eclat for a long time and presented new pieces in Stuttgart time and again.   
Bianchi explains that his project on Belarus has a background history. Traumatised by the tragic death of George Floyd through police violence and the related media coverage, he processed his concern into a short piece in the summer of 2020, addressing not only racial discrimination, but oppression and brutality in general.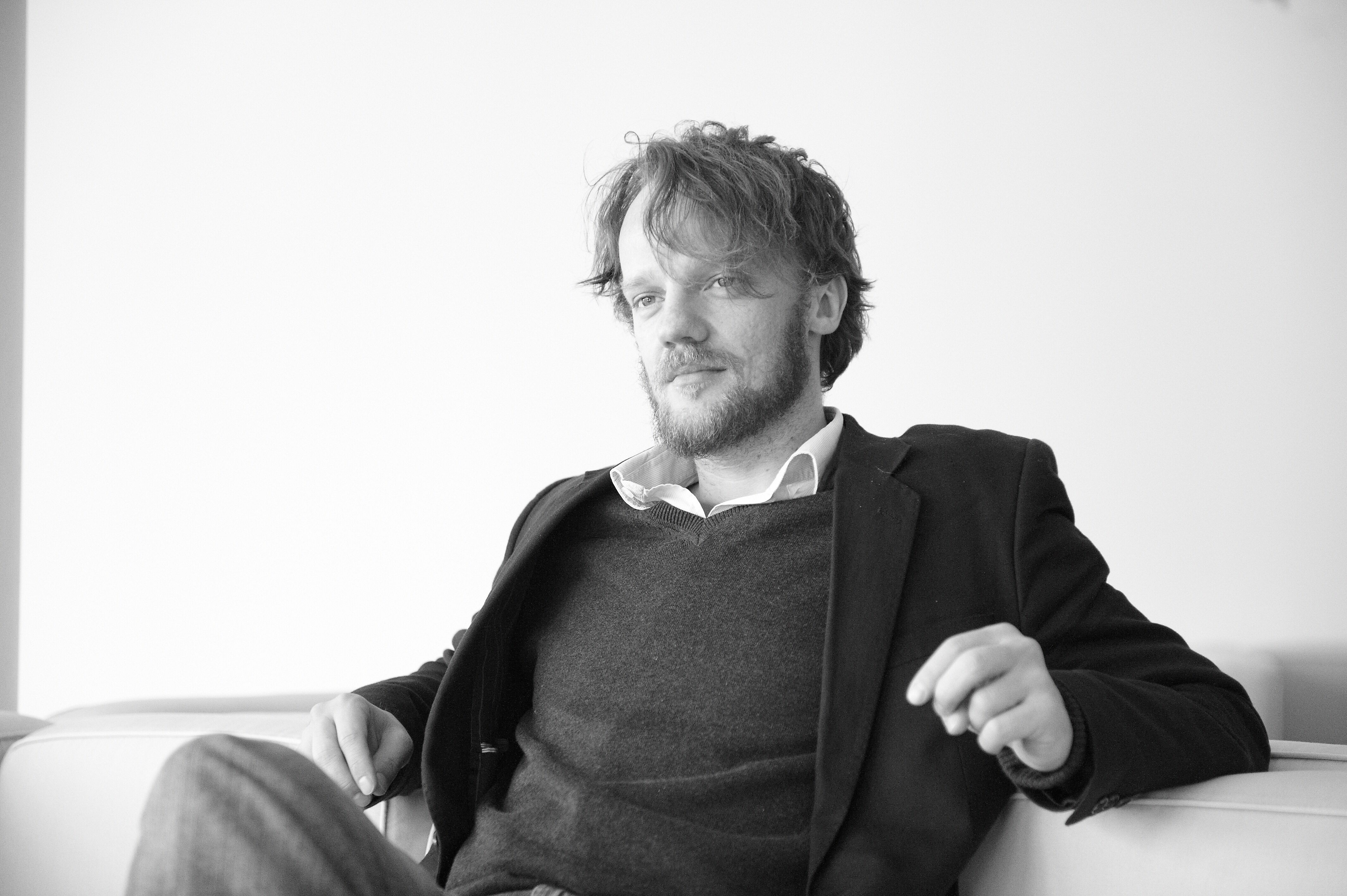 When asked by Christine Fischer, artistic director of Eclat Stuttgart, about the Belarus project, Bianchi suggested a different take on the piece. "I want to emphasise and contribute by stressing that any form of brutality and oppression can not be tolerated," he says. 

Oscar Bianchi, With you, World creation Murten Classics 2020
Fischer herself initiated the project out of personal concern, as one of the main leaders of the Belarusian democratic movement, Maria Kalesnikava, had been active in the Stuttgart cultural scene for many years, as musician, teacher and project manager, e.g. at the Musikhochschule as well as the Eclat festival.   
Before returning to Belarus for another assignment, where she immediately joined the democratic movement, quickly becoming one of its leading figures, Kalesnikava was in charge of Eclat festival's social media activities. Together with Svetlana Tikhanovskaya, leader of the opposition and close collaborator Veronika Zepkalo, she is vividly remembered for close collaborator various appearances on democratic movement podiums. She was abducted on September 8, 2020 and is in prison ever since.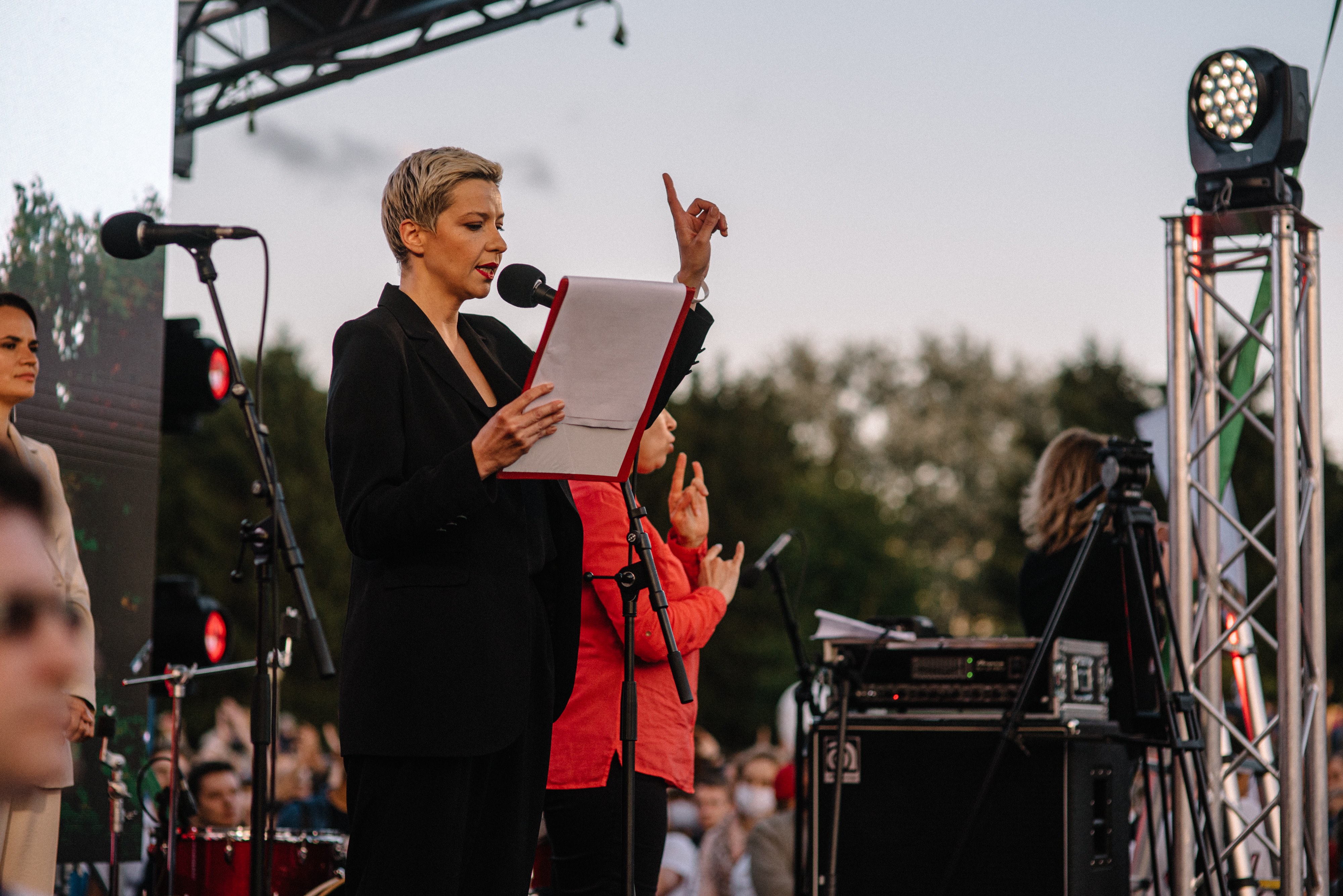 When Maria Kalesnikava, whom Bianchi knew well from the Eclat Festival, was imprisoned, it became apparent, that the Belarusian government was counting on the time factor and relying on the fact that media would be fading, so Bianchi. This makes such cultural actions all the more important to keep up the debate and raise people's awareness. 
'The balaclava – symbol of institutionalised power and oppression'.   
Bianchi teamed up with Belarusian video artist Vasilisa Palianina. In their joint work, they explored the image of police troops in full combat gear and balaclava, representing the omnipresent, violent threat in Belarus and other comparable conflicts. The anonymity of the balaclava is a symbol for loss of transparency, accountability and institutionalised power and oppression. And everything happens secretly.   
"The images and sound together tell their own story," says Bianchi about the common work. 
Voices from Belarus also features Basel composer Andreas Eduardo, whose theatrical music often includes video and multimedia. For the Belarus project, he composed music to a video.  
He too, has been associated with the Stuttgart cultural scene for a long time and initiated – ' SuperSafeSociety' an online Corona project exploring new digital participatory concert formats during the first Lockdown. The result was an online music theatre, taking place individually for each audience member. For this reason artistic director Christine Fischer approached him about the Belarus project. Especially in times of Corona, the Belarus project is also an opportunity to promote and support oppressed Belarus artists, says Frank, and that's why he immediately accepted.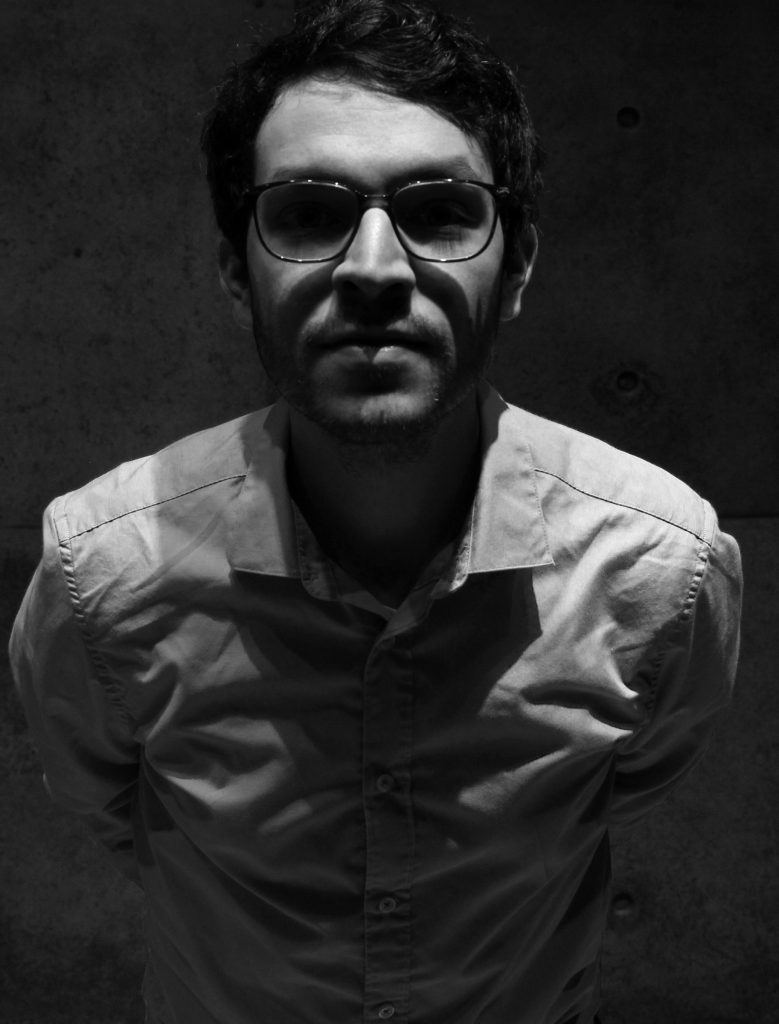 Frank worked with Maria Kalesnikava in this environment. And he was not surprised to suddenly see her at the forefront of the democratic movement. Maria has incredible charisma and appeal, which is inspiring and very media-effective.     
For his contribution, Frank teamed up with the Belarusian video artist Mikhail Gulin, completing his video Sisiphus with a soundtrack consisting of eight eight self-pronounced words: "exploit / hurt / fought / suppressed / punished / choked / repeat / proceed". 
Frank extracted these words out of conversations with Gulin: "There is the complex of Sisiphus and then there is the complex of Belarus and the commitment to it. Come together in the artistic commentary," Frank explains. The parallels between Sisiphus and being an artist are, plain to see, such as the permanent struggle or the artists' being at the mercy of the powerful state machinery.   
"exploit / hurt / fought / suppressed / punished / choked / repeat / proceed"  
Frank fed the words into a sampler and then improvised to the video with a small electronic setup, distorting the words, played them faster or slower, filtering them. "This resulted in sounds like those of 'driven pigs' or stifled breathing next to recognisable words. Then there is also a trace of bitter irony: the violent words take on a new semantic, combined with the image of hay bales being pushed around," says Frank.   
Andreas Eduardo Frank& Mikhail Gulin: Sisiphos, UA Eclat Stuttgart 2021
The project also significantly increased Frank's own awareness of the conflict. "Here we are, actually doing very well – and the people there are being abducted and tortured, they simply disappear". He remembers an encounter right before the completion of the project: Frank had finished his part, but Gulin hadn't yet. Whereupon Gulin told him: "Today, a close friend, was taken to the police. People are imprisoned, abducted, beaten. The judicial system does not work."
Gabrielle Weber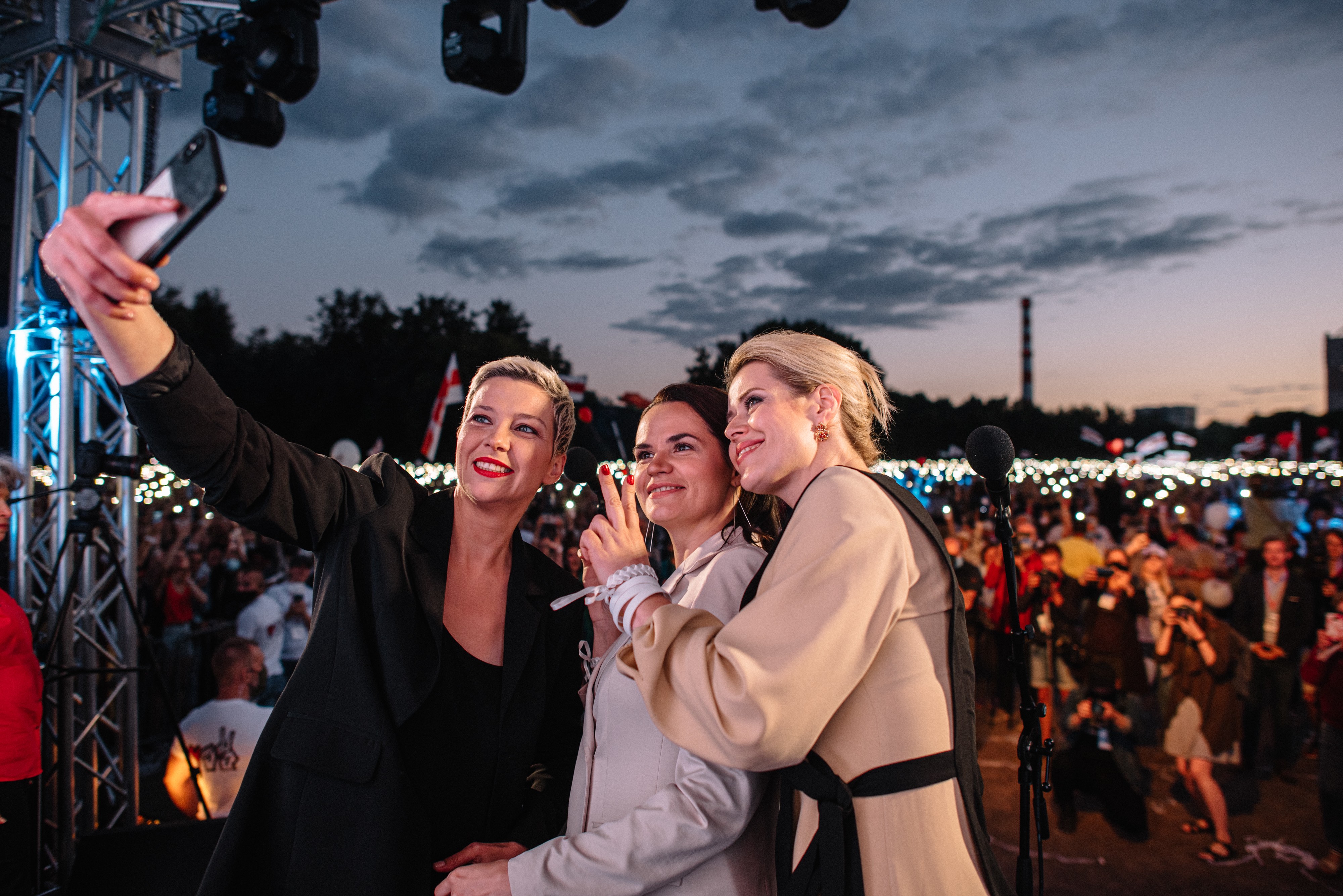 Several formats address the Belarusian conflict at Eclat Festival: 
Friday, 5.2. Echoes – Voices from Belarus: Co-productions of Belarusian with international artists and musicians/composers.
Sunday, 7.2., 17h: Awarding of the Human Rights Award 2021 by the Gerhart and Renate Baum Foundation to Maria Kalesnikava, combined with Trio vis à vis (Kalesnikavas Trio) concert. The award is conferred by former Federal Minister Gerhard Baum and received by Kalesnikava's sister Tatsiana Khomich.
3.-7.2.: digital exhibition, Belarus – the way to oneself: to be walked through online during the festival.
The 41st edition of ECLAT will offer 13 most live-streamed concerts with exclusively digital pieces and numerous world premieres, as well as interviews, chats, discussions, games and much more. 
IN CASE YOU MISSED IT: ECLAT AGAIN ONLINE FROM 17.2. till 21.2.!
—————————–
Belarus – short reminder: In August 2020, authoritarian head of state Lukashenko confirmed himself as president after democratic elections, although civil rights activist and opposition leader Svetlana Tikhanovskaya had won the majority. The EU did not recognise the results. Tikhanovskaya is now in exile in Lithuania and her collaborator Veronika Zepkalo in Poland. Maria Kalesnikava was arrested in Minsk on September 8, after resisting deportation. She is still in pre-trial detention.   
On 27 January 2021, Amnesty International denounced torture in Belarus. 
'Musik der Jahrhunderte' / Eclat has been working together with human rights organisations and with political support since September 2020 to secure her release.  
——————————————
Eclat / Musik der Jahrhunderte, Trio vis à vis, Mikhail Gulin, Vasilisa Palianina
Broadcasts SRF 2 Kultur:
Kultur aktuell / Kultur kompakt Podcast, 4.2.21: editorial Theresa Beyer, critique concert Voice Affairs / Festival Eclat
Kultur aktuell / Kultur kompakt Podcast, 5.2.21: editorial Gabrielle Weber, Portrait Maria Kalesnikava / Festival Eclat
in Musik Magazin, 6.2./7.2.12: editorial Moritz Weber, feature by Gabrielle Weber, Portrait Maria Kalesnikava / Festival Eclat
Neo-Profiles: Andreas Eduardo Frank, Oscar Bianchi