The synthesiser and me – that pretty much sums up Nicolas Buzzi's life. The Swiss artist has been playing electronic musical instruments ever since his early years. Today he invents sounds that – perhaps – never existed.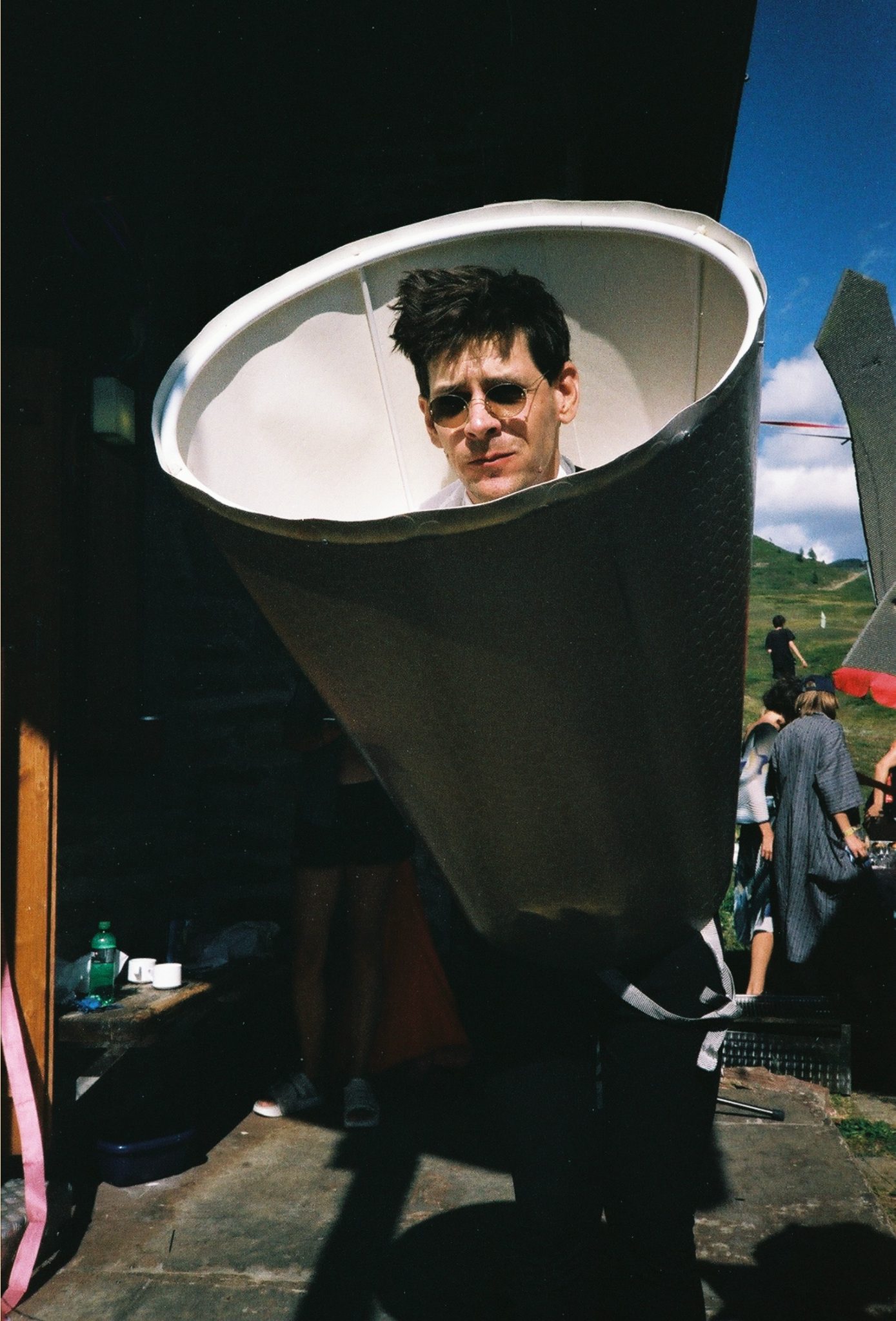 Benjamin Herzog
Is there even a word for it? Like Synthesizerist? Electronic musician? Not really. Nevertheless, there are people who dedicate their lives to synthesisers and electronic music. For Nicolas Buzzi, this passion began early and in a rather unusual place… the attic of a farmhouse. As a twelve-year-old he found an old Yamaha synthesiser there. "A stroke of luck," says Buzzi, as he is a much sought-after musician today.
Nicolas Buzzi: US VII/VIII/IX, unison in seven parts, 2.12.2020:
He learned the game by himself, throughout his entire youth. Was it love at first sight? Yes, but not in a strict sense as that Yamaha is now something that belongs to the past, long gone. "Devices come and go," he says, "what matters and stays is the way of dealing with them, the musical thought." That musical thought, however, is a little more complicated than one might think. So let's have a closer look.
Donald "Don" Buchla – inventing new sounds
San Francisco, the 1960s. If you imagine Donald Buchla, one of the main figures in the synthesiser's development, with a flowered shirt, long hair and blue shades, that might not be entirely wrong. "Don" Buchla cultivated this look until his death. Somewhat guru-like. Throughout his life, Buchla presented numerous model series of electronic musical instruments: the Buchla synthesizers.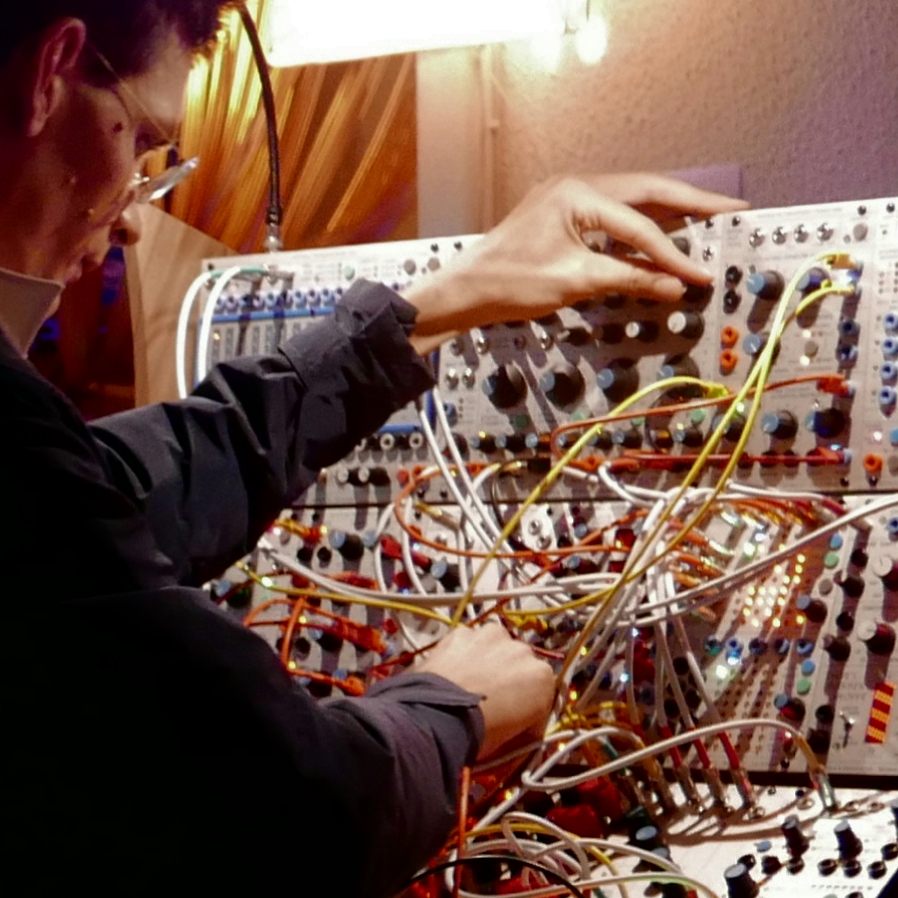 Nicola Buzzi mainly plays on one of these models, the "Buchla 200e". To say synthesiser is perhaps not correct, for "synthesise" or imitate sounds that already exist wasn't actually what Buchla's meant to do.
He was more interested in inventing new sounds, new music, in harmony with the spirit and optimism of those years. John Cage, for example, experimented with various random techniques at the same institute in San Francisco, even if in his case the music was played by people on conventional instruments. (More or less: Cage also wrote music for sounding cactus). 
Don Buchla invented a corresponding generator, a random generator, which can generate unprogrammed sequences, not foreseen by humans, on his devices.
So the synthesiser "makes" music, right? Nicolas Buzzi puts it into perspective. He says that he does receive impulses from the instrument, which is constructed in a way that it runs through its own random processes, which are still mostly controlled. In other words, what he wants, he kind of shows the instrument the way. But that also means: "Most instruments and we players orient ourselves to existing music." Which raised the question whether something really new can emerge this way.

Nicolas Buzzi, Negotiating the space between rhythm and timber, 2020
"When I play as Nicolas Buzzi, I always have my own cultural memory, which is not easily to be erased," says Buzzi. "My body, the pulse, the breath – all of these aspects also play a role in making music."
The realm of artificial sounds is therefor made of people and that includes us, the listeners, who immediately classify what they hear. Comparisons are made, familiar things are brought up, drawers are torn open in order to tidy up and stow away the unknown.
In a way, the whole thing is supposed be left in charge of the machines..
In a way, the whole thing is supposed be left in charge of the machines.
In fact, there are research projects on this with self-learning computers that are supposed to create a non-human music, not linked to any memories. "But I can't imagine that sounding good," Buzzi says sceptically. And rightfully so. In any case, something like that is hard to imagine. Speaking of our imagination … if music doesn't relate to our world, what is it supposed to draw inspiration from? "Perhaps perception," says Buzzi. "Perception of time, sound, or figures." A different perception, therefore, is to be presumed, but can one perceive the unknown? This is where it gets hazy.
Music that is oriented towards the perception of time, sound and figures.  
The musical thought that has occupied Buzzi for most of his life with his synthesizers could lead to abysses. Maybe it's a good thing to enter solid collaborations with other musicians. Buzzi plays in a trio with his wife, artist and musician Martina Buzzi, as well as with architect and musician Li Tavor. Three synthesizers combined in one project under the name of "Pain". Not inappropriate, since it was born in the Corona year 2020. "As all the venues where we could have performed were closed, we moved our common soundscape to the digital," Buzzi explains. 
Headphone music is created in this way. In and within one, or rather three, different digital sound spaces. One reacts very differently to his or her fellow musicians, says Buzzi, more independently, freer, listening with fresher ears. Ideal conditions, actually, for new things to happen on Buchla's magical device.  

Nicolas Buzzi / pain mit Martina Buzzi und Li Tavor: places 2
Let's have a listen. In parts of "Pain"'s sounds one can hear creatures snarling and grunting at each other. It barks, trembles, hisses, as in an independent sonic bestiary and that's what I hold on to. What would happen if I let myself fall into this rather unknown cosmos?
Nicolas Buzzi am Buchla von hinten ©zVg Nicolas Buzzi
Letting go is where my brain actually starts getting in the way, as it obviously prefers to wander through an imaginary zoo with this music. The new music on Buzzi's Buchla 200e, the "musical thought" about it, that also concerns the listener, who obviously likes to cling to his branch like a bird in a tree. Spread your wings and fly bird, fly!
Benjamin Herzog
In the "I sing the body electric" project, Nicolas Buzzi met the Ensemble Thélème. The result was a combination of synthesiser and Renaissance music

Nicolas Buzzi und thélème: I sing the body electric, Buchla Synthesizer trifft Chansons von Josquin, Eigenproduktion SRG/SSR
From September 21 to 23, the project Rohrwerk – Fabrique sonore, featuring sound installations by Nicolas Buzzi, German Toro Perez, Marianthi Papalexandri-Alexandri, etc. will be presented again (after Basel, Zurich and Lausanne SMC) at Lausannes' Rolex Learning Center at EPFL.
Sendungen SRF 2 Kultur:
Musik unserer Zeit, 3.3.21, Nicolas Buzzi und sein Synthesizer, editor Benjamin Herzog / verlinken:
Neue Musik im Konzert, 31.3.21, 21h, I sing the body electric, editor Florian Hauser
Neoblogpost, 2.9.2019, Reibung erzeugt Wärme: Marianthi Papalexandri Alexandri @ Rohrwerk – Fabrique sonore/Zeiträume Basel, autor Theresa Beyer
Neo-profiles:
Nicolas Buzzi, thélème, Germán Toro Pérez, Marianthi Papalexandri Alexandri,  Musikpodium der Stadt Zürich, Beat Gysin, Société de musique contemporaine – SMC Lausanne