Friedemann Dupelius
There is something tidy and neat about the way vacuum-cleaning robots prance across the floor. Always on the lookout for unswept corners, they circle around, turn, jerk back and forth, left and right, orchestrating their hunt for the last speck of dust with an unrelenting hum. Last summer, Janiv Oron packed small speakers onto two of these modern household helpers. In the Istanbul art gallery Öktem Aykut, they scrubbed their way between the visitors on the parquet floor and played a mobile soundtrack, consisting of fragments of Janiv Oron's compositions and their own constant whirring, to Renée Levi's paintings on the walls.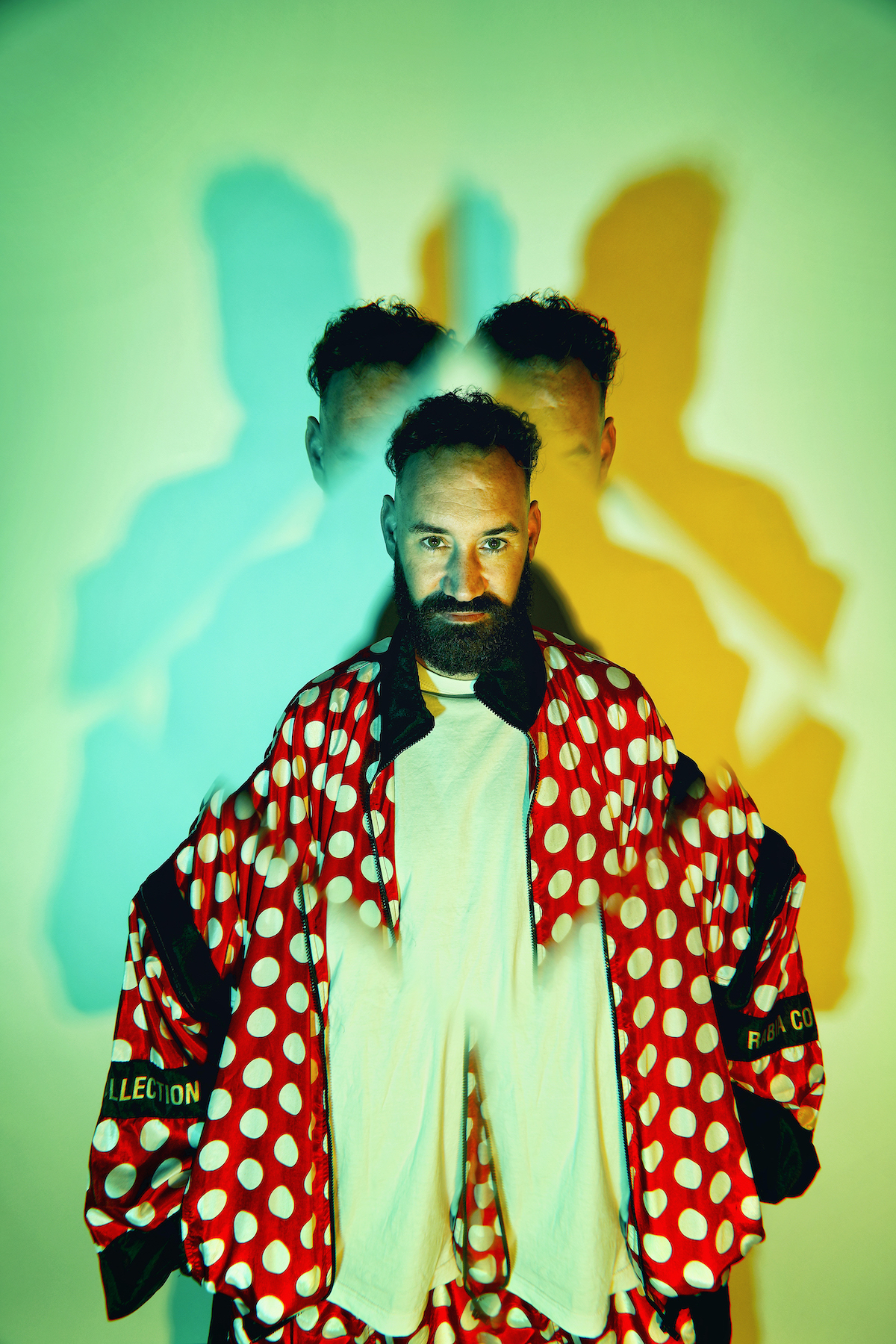 It's almost like Karlheinz Stockhausen's Rotortisch and its rotating loudspeaker had discovered mobility after 60 years. Or else the party trucks, as we know them from Zurich's Street Parade, had lost their way. Janiv Oron would probably be happy with either interpretation. The Basel musician and sound artist not only moves his sound sources, but also himself between different musical points, stirring up the dust of habits in the process. As part of the DJ duo Goldfinger Brothers, he has been playing at parties for over two decades. During his music and media art studies at the Bern University, he was introduced to sound art and contemporary composition. Since then, Oron has been expanding his sound language and rethinking the tools he grew up with in club culture on his new paths, working with record players and vinyl records as instruments for both composition and live performance. He also uses loudspeaker systems to sonically react to spaces and to create new sound spaces within them, guesting in galleries, but has also collaborating with contemporary music ensembles and dance companies in recent years.

In May 2022, Janiv Oron released his first solo album "Easel" on the Zurich based label Light From Other Days. Oron recorded the pieces with Buchla's analogue "Easel" synthesizer.
Everything rotates
The motif of rotation is conspicuous to the eyes and ears in many of Janiv Oron's works: "The mix, infinite loops, revolutions of the mind, speed, phase shift, general forms of repetition or spatiotemporal displacement," is how he describes his fascination with everything spinning in music. "These are swirls of sound in time and space. They create a dynamic or kinetic fullness." Rotating loudspeakers, performing vacuum robots and spinning turntables circle through Janiv Oron's art, which, for all its compositional abstraction, is strongly informed by the body in space and bodily perceptions: "Sound moves onto the skin and the skin starts to hear for you." Janiv Oron knows from the club scene how it feels to be tickled in the diaphragm by subcutaneous bass frequencies.
Janiv Oron at Nachtstrom 94 (Gare du Nord, Basel)
For his concert with Basel Sinfonietta in June 2022, to close their anniversary season "40+1", he brought a sound system – built by a friend – to the Pfaffenholz sports centre hall. The two high loudspeaker towers were necessary to record the "soundclash" with the 80 musicians strong orchestra. At the same time, it provided an adequate sound for a large sports hall. In this concert, the Sinfonietta played Flowing down too slow by Fausto Romitelli and Christophe Bertrand's Mana. Janiv Oron sampled 64 small excerpts from these two compositions, some of them only a few seconds short, and ran them through various computer algorithms. The source material was thus stretched, distorted and taken out of its original context. "In sampling, I isolate scraps of a story and insert them into a new narrative," he explains. In a next step, composer Oliver Waespi orchestrated 21 selected remix fragments by Janiv Oron, again for the Basel Sinfonietta. Oron finally played live on the turntables with the orchestra. The records, connected to a software, served as a control unit for the individual orchestra samples.
The title of this re-composition is Datendieb (Data Thief): "In my music I very often work with already existing material. In sampling, one becomes a time traveler. You steal in the past, edit in the moment and think the material forward into the future."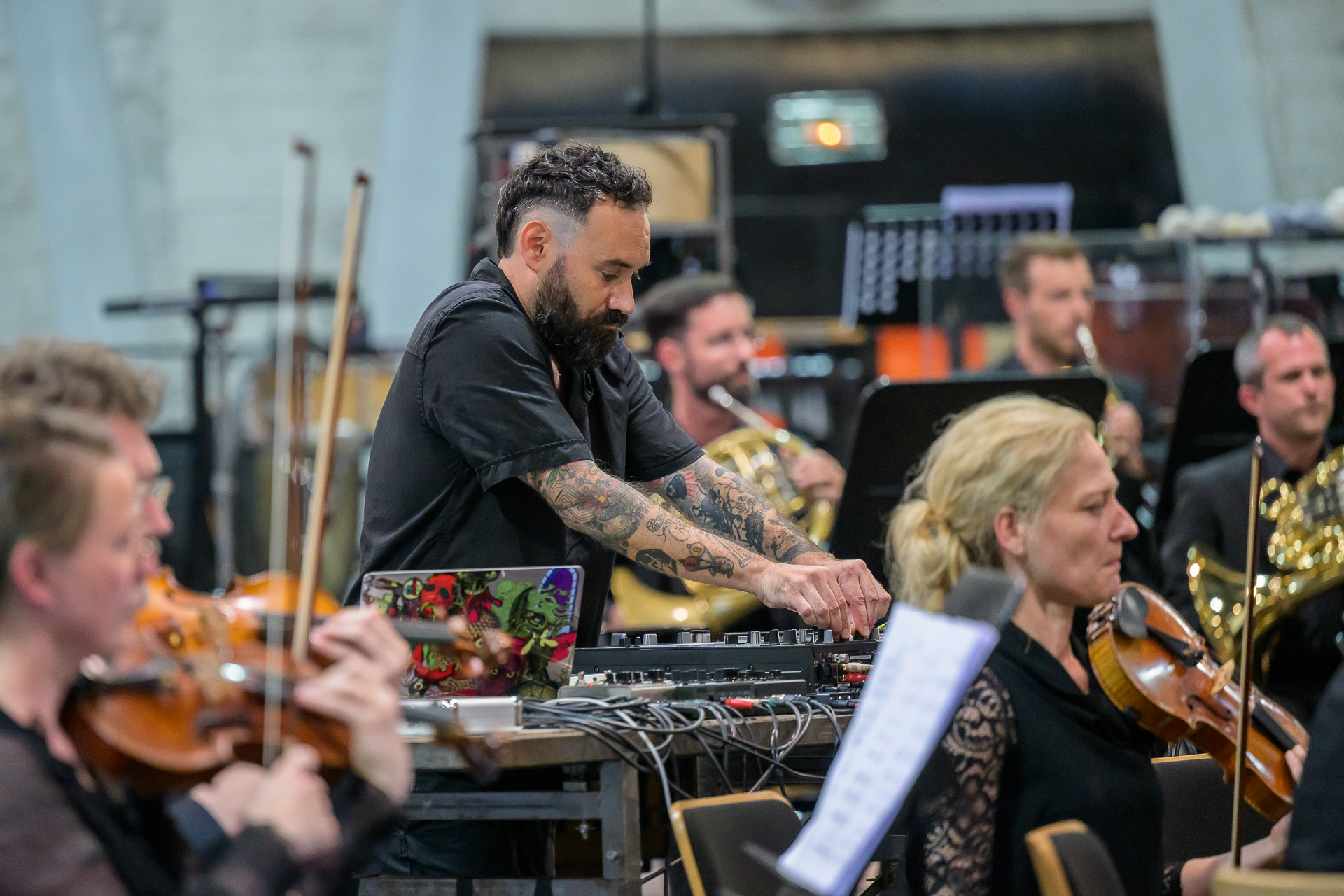 Death Can Dance
Similarly oscillating between times is the loop – the germ cell of electronic dance music (often) pressed onto records, to which Janiv Oron continues to feel connected. Over the years, he developed a fascination for what is usually referred to as drone in electronic music. Oron breathes life into his drones with analogue or digital electronic instruments and plays them in several collaborations i.e. with Christoph Dangel (cello), Stefan Preyer (double bass), Thomas Giger (light art) and the Basel Chamber Orchestra – with whom he has already realised several cross-genre projects, such as the three parts of "Don Bosco's Garden".

"Don Boscos Garden 1" – with Janiv Oron, Christoph Dangel, Stefan Preyer & Thomas Giger
In the latter, realised at the end of October 2022, Oron mixed the instrumentalists of the chamber orchestra playing sporadically in the Don Bosco building into a remix of Mahler's 4th Symphony.
https://www.youtube.com/watch?v=TBi1BK8r2UE
"Don Boscos Garden 2″ – with Kammerorchester Basel, Giulia Semenzato & Anne-May Krüger
Another collaboration is scheduled for November 2022, in which Janiv Oron and organist Filip Hrubý will compose music somewhere between ambient, organ sounds and electronics for the Basel dance company MIR. Both organs of the Predigerkirche in Basel will be used for the work entitled Now here – no where, a Totentanz for the 21st century, approaching the abstract phenomenon of death and one's own mortality. To this end, eight amateur dancers from Basel were included in the development process as "experts of everyday life"; and one of them will dance live on stage. Even if Janiv Oron is still keeping a low profile with regard to musical details, one can assume that no definitive song of death will be played here. Because: Everything turns and comes back in a different shape.
Friedemann Dupelius

Now here – no where. Ein Totentanz für das 21. Jahrhundert
9.-20.11., Predigerkirche Basel
Janiv Oron
MIR Compagnie
Christoph Dangel
Stefan Preyer
Thomas Giger
neo-Profiles:
Basel Sinfonietta, Kammerorchester Basel, Oliver Waespi