Gabrielle Weber: Portrait Mathieu Corajod / Compagnie Mixt Forma
To create a project in the great hall of the Centre Pompidou in Paris is something quite unique. The Swiss-French composer Mathieu Corajod and the Biel-based Compagnie Mixt Forma are experiencing this with their first joint work at Paris' Manifeste Festival, namely interdisciplinary project Laquelle se passe ailleurs, a "scenic poem for four hybrid performers", combining music, text, dance and drama with electronics. The work will also be performed in Switzerland. In the Zoom interview after Paris, where Corajod was rehearsing at IRCAM, we talked about his approach to music theatre, hybridity and interdisciplinarity.
Gabrielle Weber
Corajod founded the Compagnie Mixt Forma with the aim of exploring experimental music theatre's possibilities with like-minded people. Laquelle se passe ailleur was developed together over a period of two years and convinced the Paris Association Beaumarchais-SACD in its first stages already, which made the realisation possible with a sponsorship award. Significantly, this was in the field of choreography.
Corajod's background in musical theatre comes from his studies at the Bern University of the Arts, where he also met singer Chloé Bieri and percussionist Stanislas Pili, two Compagnie Mixt Forma members.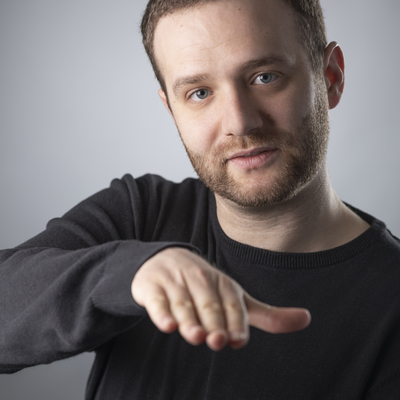 Corajod's own conception of connecting different disciplines, media and technologies goes far beyond the traditional understanding of experimental music theatre as a scenic current of contemporary music. During his Parisian studies at the IRCAM, he intensively dealt with electronics as well as contemporary dance, since then the fusion of composition and choreography never left him. In collaboration with the dancers Pierre Lison and Marie Albert, he created his first piece for dance. Others followed, whereby the additional use of voice, as well as collaborative and inclusive aspects are central to Corajod. Together with Lison, Corajod is now also responsible for the choreography of Laquelle se passe ailleurs, where Lison is also involved as dancer-performer.
Mathieu Corajod, ça va bien avec comment tu vis (2019)  for two dancers and electronics, Marie Albert and Piere Lison
Explorers on a joint quest
Complemented by actor Antonin Noël, the four performers of the piece undertake a joint "poetic-futuristic expedition", each of them bringing their own expertise into the whole in order to generate something completely new. Like researchers on a common quest, says Corajod. He calls this kind of collaboration "hybridisation". On one hand, there is the hybridity between body and machine, made possible by an on-stage technical device in co-production with IRCAM. On the other hand, the performers themselves act hybrid. They all perform everything, bringing their own approach and learning from each other.
Interdisciplinarity is always present – whether visible or not
Laquelle se passe ailleurs was intended to be intermedia from the very beginning. "The impulses I received from dancer, actor and writer extremely increased the demands on stage," says Corajod. French author Dominique Quélen contributed new texts, based on the company's ideas. They were then translated into music and choreography. For a performance by singer Bieri, for example, they would have transferred one of the texts not only structurally, but syllable by syllable to individual gestures and Bieri complemented with special timbres of the voice. Everything is present in each of the performing bodies – dance, text and music, says Corajod. Interdisciplinarity is always present, in one way or another, whether visible or not.

Chloé Bieri in Five young lights for voice and electronics by Pietro Caramelli, 2019
Scenes of an exploration – linked by a playful-poetic approach.
Although there is no actual story in the play, they worked with hidden narratives that the participants imagined for each other in order to be able to act on stage. "When developing a play, questions like: Who am I in this play? What am I doing? or How am I behaving? always arise. It helps if one's able to imagine something," says Corajod. This is how different scenes of an exploration with a kind of incomplete plot, connected by a playful-poetic approach came about: "We want to take the audience on this journey," says Corajod and compares the atmosphere of the project to Andrei Tarkowski, David Lynch or Stanley Kubrick movies.
The choreography doesn't follow a plot either. They would have used different strategies for individual scenes. Only some, like Bieris' solo, are completely choreographed, others are based on improvisation and were then rehearsed and fixed step by step. There are also movement sensors in individual objects of the stage set that produce sound when manipulated by the performers, with these manipulations being choreographed to the last detail.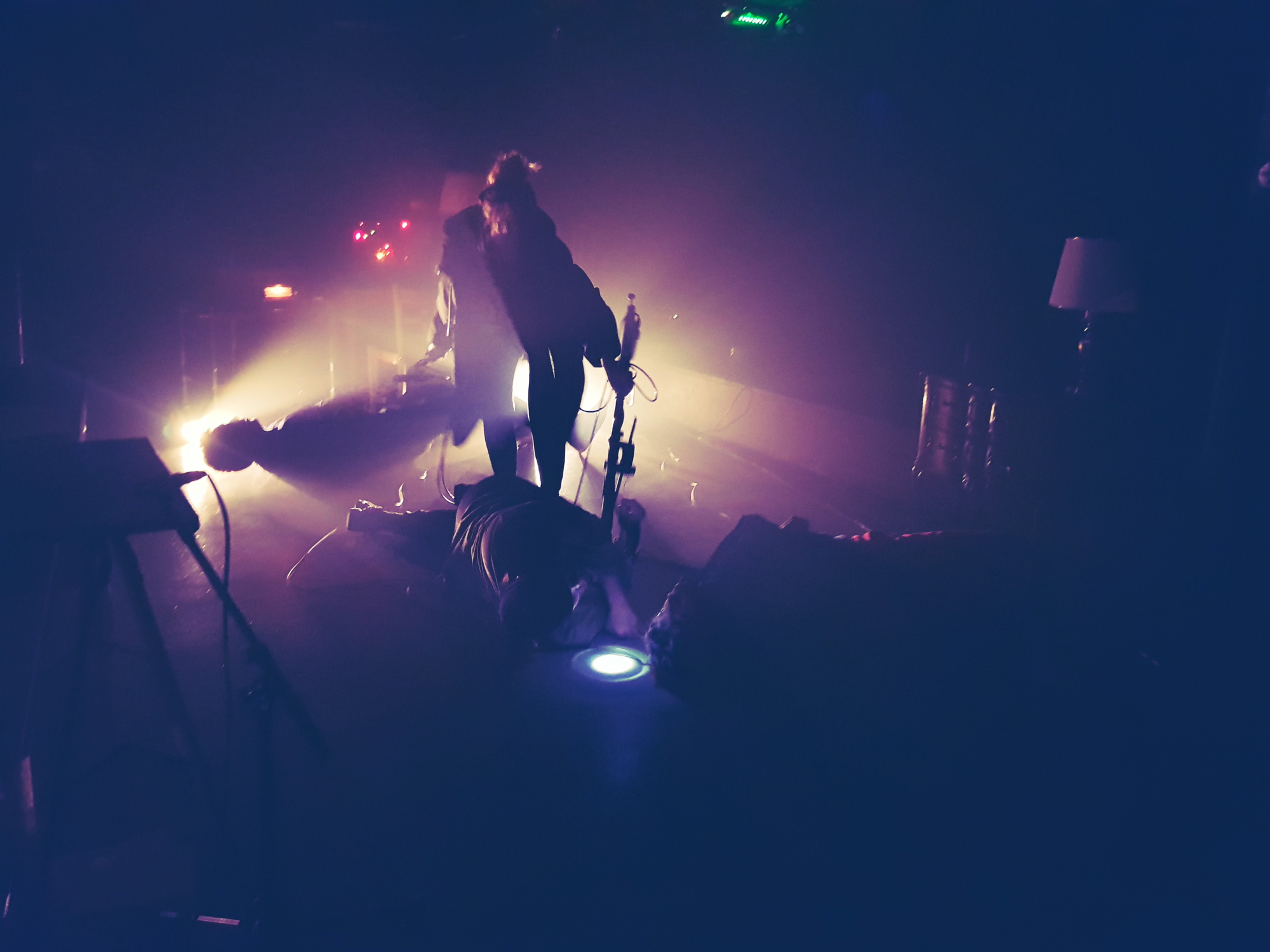 The aim is to design movements in such a way that they trigger something in the larger context of the stage, says Corajod. He sees the SACD's support for the choreography as confirmation of this novel approach interweaving choreography and composition. On the one hand, it is an honour and on the other hand, he is particularly pleased because he comes from the music. The production is thus not "only" recognised in contemporary music, but also in theatre and dance.
Mathieu Corajod et Pierre Lison (mouvement), Axes (2021), instrumental dance, Duo Alto, UA Paris 2021
Because Corajod also wishes to bring contemporary music to a wider audience and he always explores the genre's boundaries. With his previous project, the experimental opera Rendez-vous près du feu, performed as part of the "Nancy Opera Experience" at the Festival Musica 2022, he succeeded, as he was not only the composer, but also director. The new work took place partly outdoors – on the spacious square Stanislas in front of the opera – partly inside the Opéra national de Lorraine. Members of the orchestra and performers performed inside, close to the windows facing the square. The choir sang as a flash mob in the audience on the forecourt and the action was projected onto the façade by video mapping.
Mathieu Corajod, Rendez-vous près du feu (2022): Théâtre musical and experimental opera united in an exceptional format (in situ, video mapping, flash mob), commissioned by Opéra national de Lorraine and Festival Musica.
This allowed the opera to open up to the square and the city as well as being enlivened in a different way through light, scenography and actions – it also drew numerous random passers-by under the spell of scenic hybridised contemporary music.
After these two major projects, Corajod is now taking a creative break to focus on a research project dedicated to Swiss music theatre pioneer Hans Wüthrich.
Gabrielle Weber
Laquelle se passe ailleurs :
2. / 3.6.23, 19:30h,Theater am Rennweg 26 Biel
8.6.23, 20h, Gare du Nord Basel
12.6.23, 20h, Festival ManiFeste, Centre Pompidou Paris
9.9.23, 21h, Musikfestival Bern, Dampfzentrale Turbinensaal
Festival ManiFeste IRCAM/Centre Pompidou Paris, June 7 – July 1 2023
IRCAM, Nancy Opera Experience, Opéra national de Lorraine, Musica Festival Strasbourg
Neo-Profiles:
Mathieu Corajod, Compagnie Mixt Forma, Chloé Bieri, Hans Wüthrich, Gare du Nord, Musikfestival Bern