Charlotte Hug talks about four new CD releases.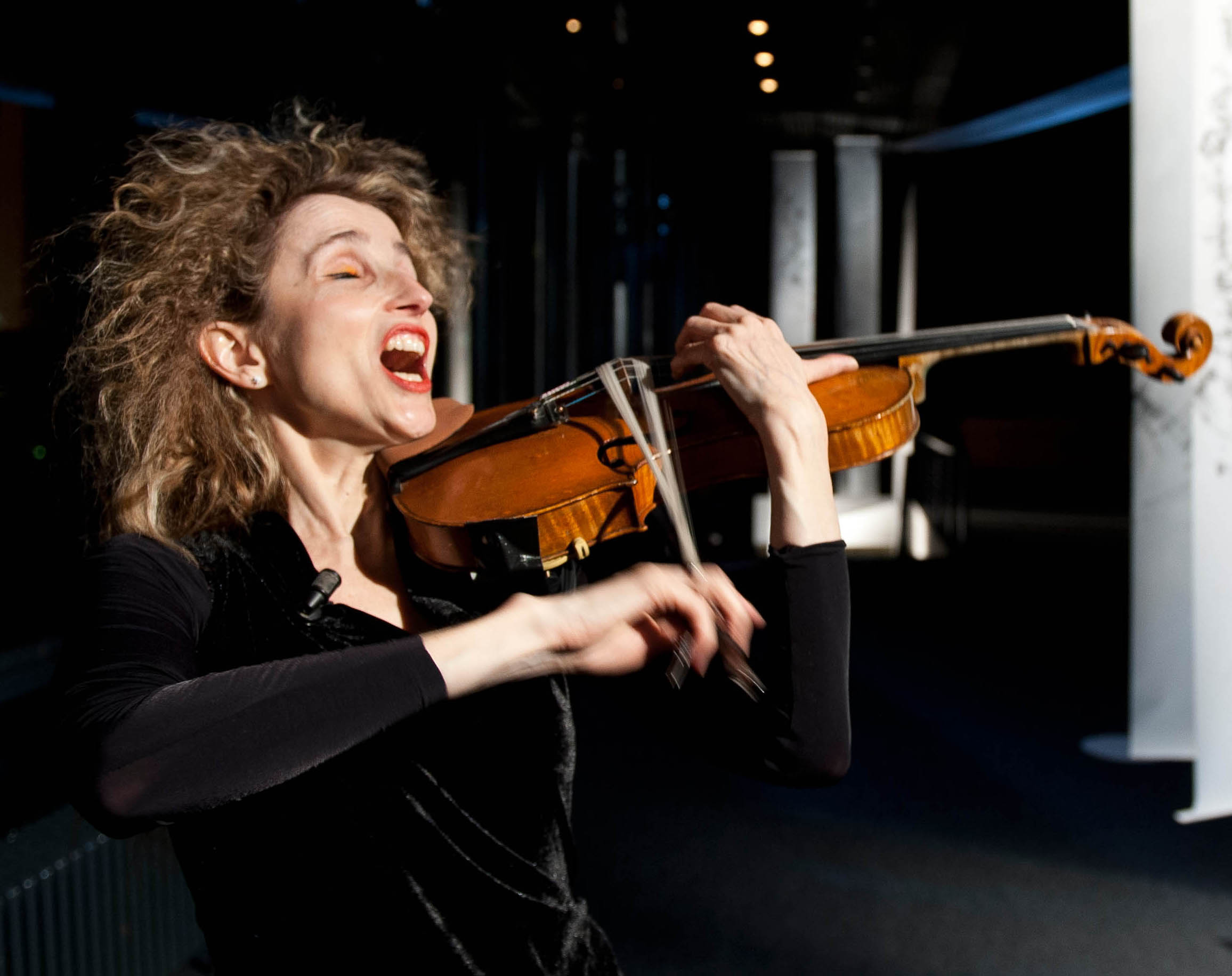 Gabrielle Weber
Charlotte Hug, composer-performer, viola player, voice- and media artist, navigates between composition and improvisation, intertwining music and visual art. Four new CDs reflect her diversified artistic personality. In this interview, she describes them as "harvest" of the recent years.
Charlotte, in your performances you push the boundaries of your instruments – viola and voice – to their limit, adding a strong combination with visual aspects. Can you tell us more about the connection between these three elements?
Solo work is an important starting point for me, but I am always in a state of dialogue. The voice and the viola communicate with each other. They often disagree. To me, music is about being in communication with people.
"The viola and I are looking for new dialogues day by day."
The connection to the visual aspect is something I achieve through the so-called "Son-Icons", a combination between music and image (or Sounds and Icons). I capture the music I perceive  – whether heard or imagined – as well as random ambient sounds with my hands, like several pens dancing with each other on semitransparent paper. The results can be small picture boards, meter-long paper sheets, room installations, animated video scores. With Son-Icons I created a composing procedure.
"Eye and ear often decide in different directions."
The Son icons are stimuli and inspiration for music and make the energy of its origination visible.

Portrait Charlotte Hug, Son-Icons ©Art-TV 2016, Michelle Ettlin 
Improvisation is an important foundation of your work. What does improvisation mean to you?
Improvisation is an artistic elixir of life, especially the magic of musical encounters with other artists such as Lucas Niggli (CD Fulguratio). Improvisation means creating in the moment. When I play with the London Stellari String Quartet, which I founded in 2000 (CD Vulcan), every performance leads to new creations. The London improvisation scene has influenced me heavily for almost twenty years. First as permanent member, now as guest and guest conductor, I regularly played with the London Improvisers Orchestra (CD 20th anniversary).
On the basis of this interaction-notation you developed, you elaborate intermedial compositions for orchestra and choir. How do these collaborations concretely look like?
I draw an individual Son-Icon for each musician. It can be turned and reversed, mirrored, read as "Krebs" or "Umkehrung", on the same principles as J. S. Bach's or the Second Viennese School's compositions. I then hold individual coaching sessions and every musician develops his or her own musical material based on the Son-Icon.
"Interaction-Notation enables musical encounters at eye level, the use of various artistic resources, precise interplay without cultural barriers."
The Interaction-Notation is a structuring method. An interface combines conventional western notation, Son-Icons, graphic notations, movement symbols, or plays live recordings. This creates the framework condition for musicians with different cultural or interdisciplinary backgrounds to interact with each other.

How do you work as a conductor in intermedial settings with larger ensembles?
I see myself as a giant ear. I create an ambiance and a state of trust and acceptance, so that courageous things can happen. If routine creeps in, I stimulate awareness through the unexpected.
The new Son-Icons CD features intermedial compositions. How can this connection between visuals and sound translate to a "sound-only" medium like the CD?
An intermedial performance on stage is a celebration, an immersive sensual experience one can dive into, a state of aggregation. But Son-Icons do also work in exhibitions as "visual music" without sound. They awaken inner music.
Charlotte Hug, Moscow Contemporary Music Ensemble, Lucas Niggli ©MAMM 2018 
On the other hand, as recordings don't carry any visual impulses, the music awakens the listener's inner images. The advantage of a CD is that you can take it with you, listen to it on your own, play it again, immerse into it more than just once.
"Music and Son-Icons are self-sufficient – they act as different states of aggregation."
Tell us about your upcoming projects, do you have a dream project?
In my solo work I am mainly researching with live electronics, particularly focusing on the alchemy and connections between analog, digital and the body.
On the other hand, there is this coming together of Son-Icons with scenic-intermedial elements as well as dynamic musical dramaturgy   have in mind – perhaps some kind of "commedia dell'ascolto intermediale interculturale"…Interview Gabrielle Weber
CDs:
–Fulguratio Duo Niggli-Hug, Label: Sluchaj
–Son-Icon Musik von Hug für Chor und Orchester (Lucerne Festival Academy Orchestra, via nova Chor München), Label: Sluchaj
-CD Vulcan, Stellari String Quartet, Wachsmann, Hug, Mattos, Edwards Label: Emanem
-Doppel-CD Twenty years on London Improvisers Orchestra 
London Improvisers Orchestra, Via Nova Chor München
Broadcasts SRF:
–Swisscorner, Musikmagazin, Annelis Berger zu CD Fulguratio, 27.4.19
–Die grosse Nachtmusik, Passage, 9.12.11 
neo-profiles: Charlotte Hug, Lucas Niggli, Lucerne Festival Academy, Lucerne Festival